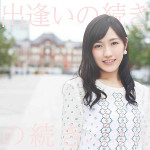 Watanabe Mayu's 5th single Deai no Tsuzuki (出逢いの続き) will be on sale on June 10.
This is the first solo single by AKB48 member Mayuyu to be released for almost 2 years.
Check out some photos from her fashion book.
The Fashion Book edition was made in conjunction with the campaign Avail 2014 Autumn Winter Watanabe Mayu (Avail 2014秋冬 渡辺麻友). It includes the music video for Onnanoko Nara (女の子なら) which is the song used in the commercial. It comes also with a fashion book featuring photos of Mayuyu as a model for Avail brand.
The limited editions include a DVD featuring the music video for the title song and bonus footage such as its making-of and a documentary on the drama Tatakau! Shoten Girl (戦う!書店ガール ; Bookstore Girl) starring Watanabe Mayu.
Moreover, Mayuyu will hold a solo live performance. Further details will be announced later.
Tracklist
Type A

CD

Deai no Tsuzuki (出逢いの続き)
Onnanoko Nara (女の子なら)
?? (カップリングA)
Deai no Tsuzuki (Instrumental)
Onnanoko Nara (Instrumental)
?? (Instrumental)

DVD

Deai no Tsuzuki (Music Video)
Making-of (MVメイキング)
Type B

CD

Deai no Tsuzuki (出逢いの続き)
Onnanoko Nara (女の子なら)
?? (カップリングB)
Deai no Tsuzuki (Instrumental)
Onnanoko Nara (Instrumental)
?? (Instrumental)

DVD

Deai no Tsuzuki (Music Video)
Drama "Tatakau Shouten Girl" Bonus (ドラマ「戦う!書店ガール」関連特典映像予定)
Regular Edition

CD

Deai no Tsuzuki (出逢いの続き)
Onnanoko Nara (女の子なら)
?? (カップリングC)
Deai no Tsuzuki (Instrumental)
Onnanoko Nara (Instrumental)
?? (Instrumental)
Fashion Book Edition

CD

Deai no Tsuzuki (出逢いの続き)
Onnanoko Nara (女の子なら)
?? (カップリングC)
Deai no Tsuzuki (Instrumental)
Onnanoko Nara (Instrumental)
?? (Instrumental)

DVD

Onnanoko Nara (MV Avail special ver.)

Book