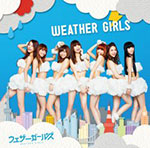 Weather Girls' 1st eponymous album Weather Girls will be released on July 3.
The album contains 10 tracks, including songs from their 3 previous singles.
The theme for the cover art is "clouds" as the Taiwanese idol group "comes to Japan riding on 'bomb anticyclone'".
The CD is produced by Jeff Miyahara.
Furthermore, Weather Girls' latest single Koi no Love Sunshine is on sale since June 5.
Tracklist
Koi no Tenki Yohou (恋の天気予報)
Koi no Love Sunshine (恋のラブ♥サンシャイン)
Koi no Love Beam (恋のラブビーム)
Koi wa Tokomeki Chuuihou (恋はトキメキ注意報)
Chewing Gum
Kaminari Day (カミナリDay)
Cherry Cherry Boom Boom
Loving Pass ~Koi no Password~ (Loving Pass~恋のパスワード~)
Because of You -Hitori no Yoru- (Because of You -ひとりの夜-)
Namida no Ame (涙の雨)
Music Videos (PV)