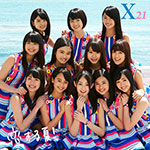 X21's new single Koi Suru Natsu! (恋する夏!) will be released on June 25.
This is the 2nd single from X21.
The coupling track is a cover of the K-Pop song Gwiyomi Song (キヨミ・ソング) by South Korean female singer Hari.
The MV has been released.
The members of X21 look adorable in this video.
The limited editions come with either a bonus DVD featuring the music videos and making-of footage, or a A5-size photobook.
Tracklist
CD

Koi Suru Natsu! (恋する夏!)
Gwiyomi Song (キヨミ・ソング)
Koi Suru Natsu! (恋する夏!) (Instrumental)
Gwiyomi Song (キヨミ・ソング) (Instrumental)

DVD

Koi Suru Natsu! (恋する夏!) (Music Video)
Gwiyomi Song (キヨミ・ソング) (Music Video)
Koi Suru Natsu! (恋する夏!) (Making-of)

A5-size Photobook
Music Video (PV)