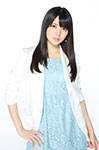 Yajima Maimi (°C-ute) will release her new photobook Glass to Mizu (ガラスと水) on October 15.
The themes of the photobook are "the image of a transparent glass" and "the image of water tinted various colors". It shows the evolution of Yajima Maimi since she's 18 years old, i.e. over the last 3 years.
The photos were taken by Nemoto Yoshinobu. It is published by Wani Books.