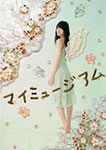 Yajima Maimi (°C-ute) will release her new photobook My Museum (マイミュージアム) on May 27.
The photos were selected by Yajima Maimi, and the design of the photobook was also made by herself.
A digest video has been published. It shows some outfits worn by the leader of °C-ute and making of footage.
My Museum Special DVD (マイミュージアム スペシャルDVD) will go on sale on June 15.
DVD Digest