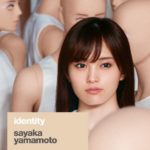 Nearly a year after the release of her album Rainbow, Yamamoto Sayaka unveils her new album entitled identity.
It is the 2nd album of the leader of NMB48. It will be released on next October 4th.
The CD will contain a total of 13 new songs.
The MV for Joker was unveiled.
The album will be released in regular (CD only) and limited (CD+DVD) editions.
The DVD will contain the video clip with a bonus video.
Tracklist
CD

JOKER
Wings
Yume no Koe (夢の声)
Let's go crazy
Yubikiri (ゆびきり)
Sandman (サードマン)
Doushite Doushite (どうしてどうして)
Aiseyo (愛せよ)
Nandodemo (何度でも)
Kassai (喝采)
Riku no Sakana (陸の魚)
Haru wa Mou Sugu (春はもうすぐ)
Hotaru (蛍)
DVD

JOKER (Music Video)
JOKER (Music Video Making)
Music Video (PV)