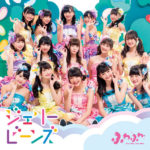 Fuwa Fuwa will release their 5th single Jelly Beans (ジェリービーンズ) on October 4th.
It is also the first single without the members Ishi Miyu, Tanino Arisa and Tsukada Nagisa, who left Fuwa Fuwa over the last months.
Check out the MV below.
The single will be on sale in several versions: 1 regular (CD only), 3 limited (CD+VR, CD+DVD, CD+Blu-ray) and nominative (bearing only the name of each member of Fuwa Fuwa).
The Blu-ray and DVD will feature the music videos of the 2 songs and their making.
The « CD+VR » limited edition will contain the MV of Jelly Beans in visual reality, as well as special glasses to view the clip.
The nominative editions will contain only two tracks (the main songs) ; only the pockets are different.
Regular and limited CD

Jelly Beans (ジェリービーンズ)
Fuwa Fuwa Rap Battle; Episode 1  ~Nakanaori~ (ふわふわRap Battle; Episode 1 ~仲直り~)
Jelly Beans (Instrumental)
Fuwa Fuwa Rap Battle; Episode 1  ~Nakanaori~ (Instrumental)
Nominative editions CD

Jelly Beans (ジェリービーンズ)
Fuwa Fuwa Rap Battle; Episode 1  ~Nakanaori~ (ふわふわRap Battle; Episode 1 ~仲直り~)
VR

Jelly Beans (VR Music Video)
VR Viewer (Special glasses)
Blu-ray and DVD

Jelly Beans (Music Video)
Jelly Beans (Making Video)
Music Video (PV)