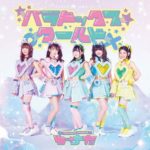 The World Standard will release their new album Paradox World (パラドックス ワールド) on October 18.
This is the second album of The World Standard, also known as Wa-Suta.
It will include the songs Magical World, Stay with me baby and Koi Suru Nyakotan ~Furi Mo Furare mo Anata no Mama~ which have all been performed before in concert.
The CD will contain a total of 12 tracks.
The album will be released in regular editions (CD only) and limited (CD+Blu-ray).
The World Standard will release on the same date their 4th single Saijoukyuu Paradox (最上級ぱらどっくす). The song will appear in this album.
Tracklist
CD

Koi Suru Nyakotan ~Furi mo Furare mo Anata no Mama~ (恋するにゃこたん~フリもフラレもあなたのまま~)
Just be yourself
Saijoukyuu Paradox (最上級ぱらどっくす)
Magical Word
Nee Itoshite Mite (ねぇ愛してみて)
Stay with me baby
Yumei ni, Nyaritai. (ゆうめいに、にゃりたい。)
NEW Nyakunyakunya Suizokukan (NEW にゃーくにゃくにゃ水族館2)
Pawawawawan!! Power Puff Girls (ぱわわわわん!!! パワーパフガールズ)
Guchokipants no Masayoshi-san (グーチョキパンツの正義さん)
Kanzenaru Idol (完全なるアイドル)
Yakusokudakara (約束だから)
Blu-ray

The World Standard ~Yume ga Arukara Tsuitekite ne~ @ Zepp DiverCity )Tokyo 2017.4.22
Kanzennaru Idol (Music Video)
Pawawawawan! Power Puff Girls (Music Video)
Yumei ni, Nyaritai (Music Video)
Just be yourself (Music Video)
Saijoukyuu Paradox (Music Video)
Video (Live)