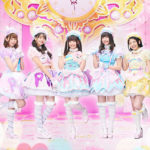 The World Standard / Wa-Suta (わーすた) is a Japanese idol group formed in 2015.
It currently consists of 5 members. Each one has been assigned a color.
It is a sister group of Super☆Girls, Cheeky Parade and GEM.
Biography / History
The creation of Wa-Suta was announced in January 2015.
Its name and the list of the members were officially introduced in March 2015.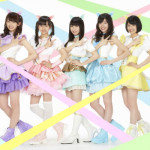 Sakamoto Hazuki, Hirokawa Nanase, Matsuda Miri, Kodama Ririka and Mishina Ruka are former members of iDOL Street ストリート生 (trainees) from Osaka, Fukuoka, Sapporo and Nagoya. Sakamoto Hazuki and Kodama Ririka were also part of hanarichu.
The name The World Standard is a reference to the fact that these girls are part of a digital native generation of idols, and want to expand activities and Kawaii Japan worldwide.
The roles of the members are divided : Hirokawa Nanase and Mishina Ruka are the vocalists, whereas Sakamoto Hazuki, Matsuda Miri and Kodama Ririka are the dancers.
They host the internet program Wa-suta no Kawaii Room (わーすたのKawaii☆Room) on Showroom since May 2015.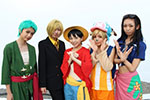 In August 2015, they dressed up as One Piece characters on the TV show Cos Cosplay Play (コスコスプレプレ).
The World Standard's 1st single Inu Neko. Seishu Massakari (いぬねこ。青春真っ盛り) was released on  Music Card in October 2015.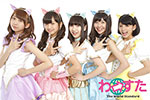 The girls appear on the variety show Idol Rue (あいどりゅ☆) on Fuji TV since October 2015.
Hirokawa Nanase was appointed Sky PerfecTV! J Youth Cup Supporter (スカパー!Jユースカップ サポーター) in October 2015.
The group held its 1st regular live performance Wonderful World (ワンダフル・ワールド) from October to December 2015 at Akiba Cultures Theater, Tokyo.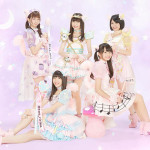 Wa-Suta's 1st album The World Standard was released in May 2016. This CD marked their major debut.
They participated in @Jam in Shanghai 2016, in China, along with Passpo☆ and Tokyo Girls' Style in June. This event was their first overseas live performance.
The girls were appointed Tokyo Game Show 2016 official supporters in September. They participated in various events during the video game expo / convention.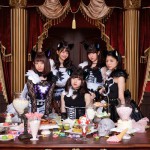 The World Standard members showed a darker side of themselves on the single Kanzen Naru Idol (完全なるアイドル) went on sale in September 2016.
In order to commemorate this release, a collaboration cafe was temporarily opened at Area-Q in Tokyo. The decoration inside the store reproduced the world view of the MV for Kanzen Naru Idol. The members of the idol group worked as maids, and were wearing gothic lolita costumes.
Mishina Ruka became an exclusive model for Love Berry magazine and made her debut in October 2016.
Wa-Suta performed at Japan Expo Thailand 2017 in Bangkok in February.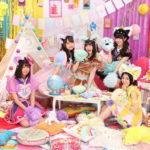 Their 2nd single Yuumei ni, Nyaritai (ゆうめいに、にゃりたい。) was released in February 2017. As the title suggests, the theme of the song is "I want to become famous".
For this occasion, a collaboration cafe was temporarily opened for the 2nd time at Harajuku Area Q in Tokyo. Special food and drinks based on the ideas of the members and their colors were sold.
The idol group held its first live performance with a band on stage in April 2017 at Zepp DiverCity Tokyo.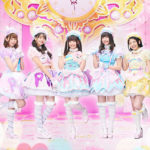 The World Standard's 3rd single Just Be Yourself, on sale in April 2017, is the opening theme song for the anime movie PriPara Minna de Kagayake! Kirarin ☆ Star Live! (プリパラみ~んなでかがやけ!キラリン☆スターライブ!).
Wa-Suta will perform at IDOLidge Carnival in Taipei in June.
Their first bus tour will be held in Yamanashi prefecture in June. The event is reserved to the fan club members only.
Matsuda Miri will sing the Japanese national anthem before the baseball game Hiroshima Toyo Carp vs Fukuoka SoftBank Hawks at Hiroshima Zoom-Zoom Stadium in June 2017. She is from this area, and she is a fan of the local baseball team.
The World Standard are going to participate in Japan Expo 2017 in Paris Nord Villepinte, France, in July.
Profile
The World Standard / Wa-Suta (わーすた)
Years active : 2015 – present
Label : iDOL Street
Agency : avex vanguard
Members
Sakamoto Hazuki (坂元葉月) – Yellow
Hirokawa Nanase (廣川奈々聖) – Green
Matsuda Miri (松田美里) – Purple
Kodama Ririka (小玉梨々華) – Blue
Mishina Ruka (三品瑠香) – Pink
Discography
Singles
05/10/2015 : Inu Neko. Seishu Massakari (いぬねこ。青春真っ盛り)
28/09/2016 : Kanzen Naru Idol (完全なるアイドル)
22/02/2017 : Yuumei ni, Nyaritai (ゆうめいに、にゃりたい。)
19/04/2017 : Just Be Yourself
Albums
04/05/2015 : The World Standard
Links
News