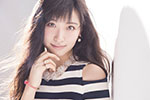 Yoyokama Rurika's new single Shunkan Diamond (瞬間Diamond) will be released on June 18.
This is the 4th solo single from Idoling!!! member Yokoyama Rurika.
The MV has been released.
Shunkan Diamond is the ending theme song for the anime Tenkai Knights (テンカイナイト) airing on TV Tokyo.
The coupling track One in a Million is a rock song.
Yokoyama Rurika participated in writing the lyrics of Hajimete no Koi (初めての恋).
4 editions are available.
The tracklisting is the same for each one of them. The CD contains 3 songs and their instrumental versions.
The limited editions include a bonus DVD with the MV, making-of footage, or a video on Yokoyama Rurika's holiday.
Tracklist
CD

Shunkan Diamond (瞬間Diamond)
One in a Million
Hajimete no Koi (初めての恋)
Shunkan Diamond (瞬間Diamond) (Instrumental)
One in a Million (Instrumental)
Hajimete no Koi (初めての恋) (Instrumental)
DVD (Type A)

Shunkan Diamond (瞬間Diamond) (Music Video)
DVD (Type B)

Shunkan Diamond (瞬間Diamond) (Making-of)
DVD (Type C)

Rurika no Kyuujitsu (Kari) (ルリカの休日(仮))
Music Video (PV)