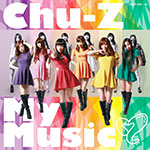 Chu-Z will release their new album Chu-Z my Music on July 9.
This is the major debut album from the idol group under Nippon Columbia label.
The short version of the MV for Girls on the Run has been released. Video comments from the members have also been posted.
The album is produced by Yohey (Panicrew).
The CD contains 9 songs including Chu-Z indies singles remastered or re-recorded, and new songs.
The Type B and C editions include a bonus track.
The Type A edition comes with a bonus DVD featuring the music video, its making-of, and footage of a live performance held at Shibuya O-East.
Moreover, Chu-Z will hold a release event on July 8 at Ikebukuro Sunshine City in Tokyo.
Tracklist
CD

Iroha Musik
Summer Dreamer
Fly High
Chu me now!!
Kira Kira Mirai (キラキラ未来☆)
a.no.ne
Bow Wow
Girls on the Run
Choose My Life

Sun-Chu♡「Brand New Days」 (Type B bonus track)
Bling Bling Princess「Lucky☆Star」 (Type C bonus track)
DVD

Girls on the Run – Music Video & Making Clip
2013/12/17 Live at O-East (2013年12月17日にO-Eastにて開催されたワンマンライブより本作収録楽曲のライブ映像を収録)
Music Video (PV)