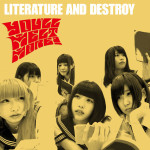 You'll Melt More (ゆるめるモ!) will release their new single Literature and Destroy (文学と破壊EP ; Bungaku to Hakai) on August 12.
You'll Melt More worked in collaboration with several artists and musicians for this single.
The music video for Yume Nante (夢なんて) has been revealed.
Midorikawa Shobo was in charge of songwriting. The music was arranged by Hashida Kazuma (Hakoniwa no Shitsunaigaku).
Yume Nante is a folktronica song about a young person with no dream.
Refresh your Jewellery Box is a pop tune.
Only You is a psychedelic rock song whose duration is about 7 minutes and a half. It features double drums performance.
The artists who performed on Refresh your Jewellery Box and Only You are Hashida Kazuma (guitar, programing), Ueno Sho (Hakoniwa no Shitsunaigaku ; guitar), Mishima Souhei (Cinema Staff ; bass), Harigae Tomohiro (Halifanie, Kinmonokusei ; drums), Taikaishi Yutori (drums), Kato Midori (percussion), Takahashi Santa (trumpet),  (trombone), Arai Kazuhiro (sax), Tachibana Yoshisuke (sax).
Only one edition of Literature and Destroy is on sale.
Furthermore, You'll Melt More (Yurumerumo) have just participated in Manga Festival 2015 in Vietnam on July 24-26. This event was the first overseas live performance of the idol group.
Tracklist
Yume Nante (夢なんて)
Refresh your Jewellery Box
Only You
Yume Nante (Instrumental)
Refresh your Jewellery Box (Instrumental)
Only You (Instrumental)
Music Video (PV)
{embed]https://youtu.be/XNaWsHwXC9o[/embed]