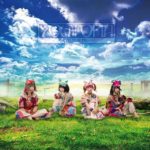 You'll Melt More! released their new album Youtopia on November 29th.
This is the 3rd album of the idol group.
He's celebrating the 5th anniversary of You'll Melt More! (Yurumerumo!).
Check out the MV for Nigenai!! below.
It contains a total of 15 songs including those from the mini album Disco Psychedelica and the single Talking Hits.
The limited eeition will also include a 16-page mini photobook.
Tracklist
CD

Aruku no Osoi Inu (歩くの遅い犬)
Nigenai!! (逃げない!!)
Music 3, 4 Bu de Owatchimau yo ne (ミュージック 3、4 分で終わっちまうよね)
Moi Moi (モイモイ)
Shinbori Kumu Response Suru (しんぼりくむ れすぽんす する)
You to Piaza (You とピアザ)
Summer Bokan (Remastered) (サマーボカン)
Yaru (やる)
Unmee (うんめー)
A! Sekai wa Hiroi Sugoi (あ!世界は広いすごい)
Gorogoro Mono Omoi (ごろごろ物思い)
Night Hiking (Remasterd) (ナイトハイキング)
Eien no Shunkan (永遠の瞬間)
must Sei (must 正)
Tenjiku (天竺)
Music Video (PV)