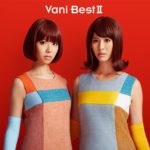 Vanilla Beans released their new album on December 6th.
It is entitled Vani Best II ; this is the 2nd best-of album of the idol group.
The CD contains a total of 18 songs. You can find the songs of the first 13 singles of Vanilla Beans since their debut in 2007.
This compilation also contains: a new song Tokei Shikake no Wonder Land ; a remixed version of their cover Tokyo wa Yoru no Shichiji of the Pizzicato Five, their original cover appearing in the album VaniBest (2010).
Three editions are available.
Each edition contains as a bonus song the digital singles: Sweet Life (released last February), Tokyo Crawl (sung by member Rena) and Niihao! Saiken! YODAREDORI!! (Omisohantori Chakohan, special group formed by the member Risa).
It contains the original version of the debut single U ♡ Me of Vanilla Beans sung by Rena and Rika, the founding members of Vanilla Beans.
The DVD contains interviews and live videos celebrating the Vanibe's 10th Anniversary.
The Blu-ray contains all the video clips of the singles of the group.
Tracklist
Regular Edition

CD

Tokei Shikake no Wonder Land (時計仕掛けのワンダーランド)
U ♡ Me
Nicola (ニコラ)
Sakasaka Circus (サカサカサーカス)
LOVE & HATE
Toki no Kakera (トキノカケラ)
Choco Mint Flavor Time (チョコミントフレーバータイム)
Non-section (ノンセクション)
Muscat Slope Love (マスカット・スロープ・ラブ)
Please Me, Darling (プリーズミー・ダーリン)
Watashi… Fukou Guse (ワタシ…不幸グセ)
Cup no Fuchico Official Song: Kitto Ii Basho (コップのフチ子公式ソング きっといい場所)
Uchouten Girl (有頂天ガール)
Onna wa Sore wo Gaman Shinai (女はそれを我慢しない)
Be-nius (ビーニアス)
lonsomeX
Tokyo wa Yoru no Shichiji (東京は夜の七時) (Konishi Yasuharu remix)
sweet life (bonus track)
CD+DVD Edition

CD

Tokei Shikake no Wonder Land (時計仕掛けのワンダーランド)
U ♡ Me
Nicola (ニコラ)
Sakasaka Circus (サカサカサーカス)
LOVE & HATE
Toki no Kakera (トキノカケラ)
Choco Mint Flavor Time (チョコミントフレーバータイム)
Non-section (ノンセクション)
Muscat Slope Love (マスカット・スロープ・ラブ)
Please Me, Darling (プリーズミー・ダーリン)
Watashi… Fukou Guse (ワタシ…不幸グセ)
Cup no Fuchico Official Song: Kitto Ii Basho (コップのフチ子公式ソング きっといい場所)
Uchouten Girl (有頂天ガール)
Onna wa Sore wo Gaman Shinai (女はそれを我慢しない)
Be-nius (ビーニアス)
lonsomeX
Tokyo wa Yoru no Shichiji (東京は夜の七時) (Konishi Yasuharu remix)
Niihao! Saiken! YODAREDORI!! (Omisohantori Chakohan) (ニーハオ!再見!YODAREDORI!! (おみそはんとりちゃこはん)) (bonus track)

DVD

Nicola (Vanilla Beans ~10th Anniversary Live~)
Toki no Kakera (Vanilla Beans ~10th Anniversary Live~)
Bi-nius (Vanilla Beans ~10th Anniversary Live~)
sweet life (Vanilla Beans ~10th Anniversary Live~)
Rena x Endo Mai (10th Anniversary Special Dialogue)
Risa x Kaede (Negicco) 10th Anniversary Special Dialogue)
CD+Blu-ray Edition

CD

Tokei Shikake no Wonder Land (時計仕掛けのワンダーランド)
U ♡ Me
Nicola (ニコラ)
Sakasaka Circus (サカサカサーカス)
LOVE & HATE
Toki no Kakera (トキノカケラ)
Choco Mint Flavor Time (チョコミントフレーバータイム)
Non-section (ノンセクション)
Muscat Slope Love (マスカット・スロープ・ラブ)
Please Me, Darling (プリーズミー・ダーリン)
Watashi… Fukou Guse (ワタシ…不幸グセ)
Cup no Fuchico Official Song: Kitto Ii Basho (コップのフチ子公式ソング きっといい場所)
Uchouten Girl (有頂天ガール)
Onna wa Sore wo Gaman Shinai (女はそれを我慢しない)
Be-nius (ビーニアス)
lonsomeX
Tokyo wa Yoru no Shichiji (東京は夜の七時) (Konishi Yasuharu remix)
TOKYO CRAWL (トーキョー・クロール) (Rena) (bonus track)

Blu-ray

10th Anniversary live video digest
Members interview off-shot video
Music Video (PV)