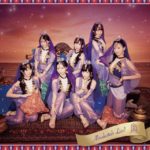 The new single Abrakatab Luv! (アブラカタブLuv!) of Houkago Princess will be released on December 20.
This is the 7th single by Houkago Princess.
This new single is inspired by the tale of Aladdin and focuses on the theme of Arabian Nights (collection of folk tales of Persian and Indian origin, written in Arabic). For the occasion, the members of the Houkago Princess are dressed like the famous Princess Jasmine from Disney (also inspired by Princess Badroulboudour from the main work).
A popular tale for many generations, the story is known for the lead character's good fortune in finding a magical lamp that holds a genie, and the love that blossoms between Aladdin and the Princess.
There will be 8 versions available.
The "Team Miracle" special edition contains a song Jasmine ~Kimi no Kokoro ga Shinjiru mama ni~ (ジャスミン~君の心が信じるままに~) by two regular members, apprentice and cadet members. The members performing this song : Shirosaki Himari (regular), Kojima Mayumi (regular), Yamamoto Natsumi (cadet), Kansai Erina (cadet), Michishige Saho (demoted as an apprentice last September), Kawanishi Fuyuka (apprentice), and Sawada Momoka (apprentice).
Tracklist
Regular edition CD

Abrakatab Luv! (アブラカタブLuv!)
Furuten LOVE&ROLL (ふるてんLOVE&ROLL)
Juliet ~Kimi wo Suki na 100 no Riyuu~ (2017 ver.) (ジュリエット~君を好きな100の理由~ (2017 ver.))
Abrakatab Luv! (Instrumental ver.)
Furuten LOVE&ROLL (Instrumental ver.)
Juliet ~Kimi wo Suki na 100 no Riyuu~ (Instrumental ver.)
Limited and "Team Miracle" editions CD

Abrakatab Luv! (アブラカタブLuv!)
Furuten ROCK&ROLL (ふるてんLOVE&ROLL)
Jasmine ~Kimi no Kokoro ga Shinjiru mama ni~ (ジャスミン~君の心が信じるままに~)
Abrakatab Luv! (Instrumental ver.)
Furuten ROCK&ROLL (Instrumental ver.)
Jasmine ~Kimi no Kokoro ga Shinjiru mama ni~ (Instrumental ver.)
Limited edition DVD

Abrakatab Luv! (Music Video)
Music Video (PV)