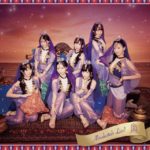 The new single Abrakatab Luv! (アブラカタブLuv!) of Houkago Princess will be released on December 20.
This is the 7th single by Houkago Princess.
This new single is inspired by the tale of Aladdin and focuses on the theme of Arabian Nights (collection of folk tales of Persian and Indian origin, written in Arabic). For the occasion, the members of the Houkago Princess are dressed like the famous Princess Jasmine from Disney (also inspired by Princess Badroulboudour from the main work).