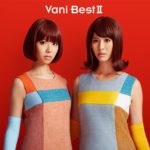 Vanilla Beans released their new album on December 6th.
It is entitled Vani Best II ; this is the 2nd best-of album of the idol group.
The CD contains a total of 18 songs. You can find the songs of the first 13 singles of Vanilla Beans since their debut in 2007.
This compilation also contains: a new song Tokei Shikake no Wonder Land ; a remixed version of their cover Tokyo wa Yoru no Shichiji of the Pizzicato Five, their original cover appearing in the album VaniBest (2010).