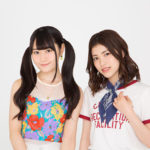 YuiKaori announced they will suspend their activities on June 30.
This announcement was made by Ogura Yui on her official blog and on the website of YuiKaori.
Both members Ogura Yui and Ishihara Kaori have decided to stop the duo's activities to focus on their solo careers, and also because Ishihara Kaori left the talent agency Sigma Seven in 2016.
Ogura Yui said she was still confused about this announcement, but that her relationship with Ishihara Kaori remains unchanged since their meeting ; she also said that she respects Ishihara Kaori's decision, and that both seek to go forward.
YuiKaori was formed in 2010 by these members as singers idols, singers and seiyuu. This group has performed several songs served as songs themes of animes.
Furthermore, a best-of album entitled Y&K will be on sale on June 21.