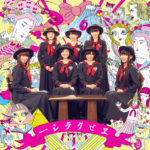 Shiritsu Ebisu Chugaku will release their new album Ebicracy (エビクラシー) on May 31.
This is the 4th original album by Ebichu.
Shiritsu Ebisu Chugaku resumed activities despite the tragic death of Matsuno Rina (one of its members), which occurred last February.
The MV for Kanjou Densha was unveiled. The song was served as a commercial song for Ringer Hut, a fast food chain.
The album will be available in several editions: regular and limited (the latter is sold only during the first weeks of sale).
The CD will feature 11 new songs.
The limited edition CD2 will contain some songs from the original CD, performed by the members in solo.
A fan club edition also exists.
Tracklist
CD1

Ebisutote Tamawansemu (ゑびすとてたまわんせむ)
Seifuku "Hourensou" Funk (制服"報連相"ファンク)
Kanjou Densha (感情電車)
Kurenai no Uta (紅の詩)
Comic Girl (コミックガール)
Sayonara Bye-Bye Mata Ashita (さよならばいばいまたあした)
Nanairo (なないろ)
Kimi no Mama de (君のままで)
Aoiro no Monday (藍色のMonday)
Haru no Arashi (春の嵐)
Forever Chuubou (フォーエバー中坊)
Limited Press Edition CD2

Seifuku "Hourensou" Funk (Nakayama ver.)
Kanjou Densha (Kobayashi ver.)
Kurenai no Uta (Kashiwagi ver.)
Comic Girl (Hirota ver.)
Kimi no Mama de (Yasumoto ver.)
Aoiro no Monday (Hoshina ver.)
Haru no Arashi (Mayama ver.)
Music Video (PV)