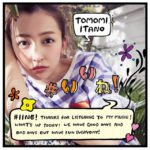 The 9th single of Itano Tomomi will be on sale on May 17.
It is entitled #Iine! (#いいね!).
The MV was unveiled. The video and the song take the theme of spring as a season of new beginnings and has Tomomi Itano enduring a series of unfortunate events but through it all she just shrugs them off and sings.
The single will be available in several editions.
Alternatives art work covers of each edition exist.
Also, 5 special editions KING e-SHOP will be on sale in King Records stores.
Tracklist
Regular Edition CD

#Iine! (#いいね!)
Doushite (ドウシテ)
Limited Edition A CD

#Iine! (#いいね!)
Doushite (ドウシテ)
#Iine! (Instrumental)
Limited Edition B CD

#Iine! (#いいね!)
Doushite (ドウシテ)
Doushite (Instrumental)
KING e-SHOP Edition CD

#Iine! (#いいね!)
#Iine! (Instrumental)
Limited Editions DVD

#Iine! (Music Video) + Making
Music Video (PV)