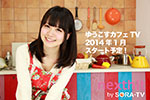 Former HKT48 member Sugamoto Yuko (菅本裕子) will host the show Yukos Café TV (ゆうこすカフェTV).
Yukos Café TV will be broadcast every Tuesday on Sora TV. Each episode lasts 15 minutes. The program will start airing in January.
In this show, Sugamoto Yuko gives cooking lessons. She is assisted by Nakamura Yukari (中村裕香里) and Tsuchiyama Akane (土山茜).
Yukos Café TV is recorded in public every Friday at Karaoke Adores in Akihabara (カラオケ アドアーズ秋葉原店). The first episode will be recorded on January 10.
Sugamoto Yuko joined HKT48 as a 1st generation member in 2011. She was part of Team H. She withdrew from the idol group from Fukuoka in August 2012. She is known as a talented cook.