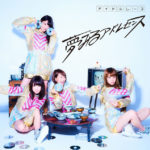 Yumemiru Adolescence released the singles Koi no Effect Magic (恋のエフェクトMAGIC) and Idol Race (アイドルレース) on January 18.
These are respectively the 17th and 18th singles of Yumemiru Adolescence.
Check out the music videos below.
These singles are sold in limited editions.
The CDs contains one track only (the main titles).
Music Video (PV)