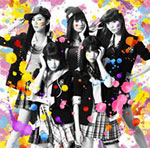 Yumemiru Adolescence's new single Mawaru Sekai (マワルセカイ) will be released on April 22.
It is the 1st single from Yumemiru Adolescence that is going to have a nationwide release.
The MV has been unveiled.
The music of Mawaru Sekai was made under the supervision of Agehasprings. The CD is produced by Onetrap.
The members of YumeAdo are wearing school uniforms and have cool expressions on the covers.
6 editions are available. The track listing is the same for all of them. It includes 3 songs and their instrumental versions. Only the CD jacket is different with group and solo versions for each member of Yumemiru Adolescence (Ogino Karin, Shida Yumi, Kyoka, Yamada Akari, Kobayashi Rei).
Furthermore, the idol group will participate in Girls Award 2014 Spring / Summer on April 19 at Yoyogi National Gymnasium in Tokyo alongside artists such as Kyary Pamyu Pamyu and Goriki Ayame.
Yumemiru Adolescence will also hold a live performance at Thailand Comic-con 2014. The Japanese pop culture festival will take place in Bangkok, Thailand, on May 9-11.
Tracklist
CD

Mawaru Sekai (マワルセカイ)
Namida ga Deru Kurai Tsutaetai Omoi (涙が出るくらい 伝えたい想い)
Jump!
Mawaru Sekai (マワルセカイ) (Instrumental)
Namida ga Deru Kurai Tsutaetai Omoi (涙が出るくらい 伝えたい想い) (Instrumental)
Jump! (Instrumental)
Music Video (PV)