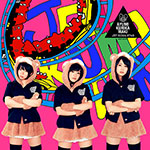 Ayumikurikamaki's new single Jet Kuma Star (ジェットクマスター) will be released on July 22.
This is the first single of Ayumikurikamaki since Ayumi joined the idol group as a new member in May.
Jet Kuma Star is a party rock tune. It is produced by Apazzi & U.M.E.D.Y. It is a continuation of their previous release Kuma to Nadeshiko (クマトナデシコ).
The coupling tracks Nakimushi Hero (ナキムシヒーロー) and Koi no Dial 6700 (恋のダイヤル6700) are described as powerful songs.
Ayumikurimakaki was formerly known as Kurikamaki.
Tracklist
Jet Kuma Star (ジェットクマスター)
Nakimushi Hero (ナキムシヒーロー)
Koi no Dial 6700 (恋のダイヤル6700)
Jet Kuma Star (ジェットクマスター) (Instrumental)
Nakimushi Hero (ナキムシヒーロー) (Instrumental)