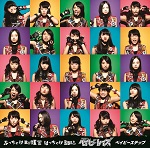 Babyraids' new single Bucchake Rock'n Hacchake Roll / Baby Step (ぶっちゃけRock'n はっちゃけRoll / ベイビーステップ) will be released on May 14.
This is the 7th single from Babyraids. 4 versions are available.
The MV has been released.
In this funny video, the members of Babyraids participate in a variety show produced and filmed by tigers. They are also abused by their devil twins.
The lyrics of Bucchake Rock'n Hacchake Roll were writen by Masuko Naozumi and the music was composed by Kamiharako Tomoyasu from Dohatsuten.
Baby Step is the ending theme song for the anime of the same name broadcast on NHK Eテレ.
In the past, Babyraids worked with several artists such as Yasuno Yuta (Hawaiian6), Tsuno Maisa (Akai Kouen), Shun & Kuboty (Totalfat), Snail Ramp, Hideyoshi, Cell no.9 (hiroki from Dragon Ash and Hiroyuki Fujino), Newroteka, Miyako Keiichi (Sophia), Kotobuki Chitoshi (Back Drop Bomb), Tamizawa Taku a.k.a. Chikoku (Group Tamashii), Anchang (Sex Machineguns)…
This is a double A-side single.
The limited editions include a bonus track. They come with a DVD featuring the music video and bonus footage.
In addition, Babyraids Live Tour Re Torai ~Tora Ima Touzai Ei Ei Gao!~ (Re虎威~虎今東西エイエイガオー!~) was held from March 25 to April 3 in Tokyo, Osaka and Nagoya.
Tracklist
Regular Edition

CD

Bucchake Rock'n Hacchake Roll (ぶっちゃけRock'n はっちゃけRoll)
Baby Step (ベイビーステップ)
Bucchake Rock'n Hacchake Roll (ぶっちゃけRock'n はっちゃけRoll) (Instrumental)
Baby Step (ベイビーステップ) (Instrumental)
Type A

CD

Bucchake Rock'n Hacchake Roll (ぶっちゃけRock'n はっちゃけRoll)
Baby Step (ベイビーステップ)
Juuden Mantan ~ Saturday Night (充電満タン~サタデーナイト)
Bucchake Rock'n Hacchake Roll (ぶっちゃけRock'n はっちゃけRoll) (Instrumental)
Baby Step (ベイビーステップ) (Instrumental)
Juuden Mantan ~ Saturday Night (充電満タン~サタデーナイト) (Instrumental)

DVD
Type B

CD

Bucchake Rock'n Hacchake Roll (ぶっちゃけRock'n はっちゃけRoll)
Baby Step (ベイビーステップ)
Again and Again
Bucchake Rock'n Hacchake Roll (ぶっちゃけRock'n はっちゃけRoll) (Instrumental)
Baby Step (ベイビーステップ) (Instrumental)
Again and Again (Instrumental)

DVD
Type C

CD

Baby Step (ベイビーステップ)
Bucchake Rock'n Hacchake Roll (ぶっちゃけRock'n はっちゃけRoll)
Baby Step (ベイビーステップ) (TV ver.)
Baby Step (ベイビーステップ) (Instrumental)
Bucchake Rock'n Hacchake Roll (ぶっちゃけRock'n はっちゃけRoll) (Instrumental)
Music Video (PV)