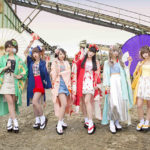 Band Ja Naimon! (バンドじゃないもん!, Bandjanaimon!) is a Japanese idol group formed in 2012.
They are also known as as Banmon! (バンもん!),
It currently consists of 6 members. Each one has been assigned a color.
Biography / History
The 2 original members, Misako and Kacchan, were known for performing together with twin drums on stage.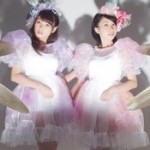 Band Ja Naimon! released their debut single Chocolat Love (ショコラ・ラブ) in February 2013.
In April 2013, Misako participated in a TV CM titled Kawaii Meets Extra Bass for Sony's headphones Extra Bass.
3 new girls (Ramune, Shioringo, and Gumi) joined the idol unit in May 2013.
Kacchan graduated from Band Ja Naimon! in September 2013 in order to become an actress.
One month later, in October, Miyu joined the idol group.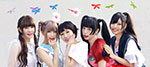 Band Ja Naimon! and the comedy duo Razor Ramon will host the variety program Band Ja Nai Zer Ramon (バンドじゃなイザーラモン) which started broadcasting on 2.5D in December 2013.
Mizutama Ramune graduated from the idol unit in April 2014. She was replaced by 2 new members Amaterasu Omomoko and Amanatsu Yuzu.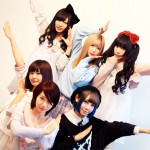 Also known as Chanmomo (ちゃんもも◎), Amaterasu Omomoko is a fashion model, a talent, a radio announcer and a DJ.
The members wrote the lyrics of the single Tsunagaru! Kanaderu! Music (ツナガル!カナデル!Music) released in September 2014.
Band Ja Naimon! live tour Extreme Happy Tour 2015 (エクストリームはっぴーツアー2015) was held from February to March 2015.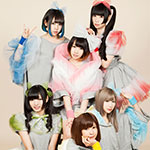 Their 1st full album Re:start was released in April 2015.
Koishio Ringo and Ano (You'll Melt More!) were appointed models for Tokyo Heroine Exhibition (トーキョーヒロイン展) in April 2015.
Suzuhime Misako was starring in Joshi no Jiken wa Taitei, Toire de Okorunoda (女子の事件は大抵、トイレで起こるのだ。) drama alongside Nakayama Riko (Shiritsu Ebisu Chuugaku) in May 2015.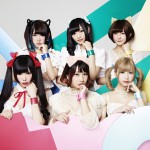 The girls appeared in a TV commercial (CM) for Uchicomi (ウチコミ) in July 2015.
The members of Band Ja Naimon! served as models for Clearstone's Halloween costumes collection Trick or Treat in October 2015.
BanMon! Fes (バンもん!Fes.) was held in October 2015. Other idol groups such as Moso Calibration, You'll Melt More!, drop, POP and PassCode performed as guests at the event.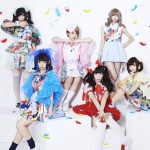 In November 2015, Band Ja Naimon! and You'll Melt More! collaborated to promote Neb aaran do and Bedsidedrama fashion brands.
Suzuhime Misako wrote the lyrics of the song White Youth on their 5th single NaMiDa / White Youth released in November 2015.
The idol group was transferred from Warner Music to Pony Canyon label in January 2016.
The girls host the radio show Band Ja Naimon! no All Night Nippon Mobile Nandamon! (バンドじゃないもん!のオールナイトニッポンモバイルなんだもん!) on ANN Mobile since April 2016.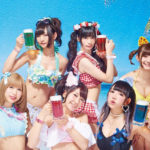 The single Kimemaster! / Kimochi Dake Sanka Shimasu (キメマスター! / 気持ちだけ参加します。), on sale in May 2016, marked their 2nd major label debut.
In order to commemorate the release of the single Natsu no Oh! Vibes (夏のOh!バイブス), in August 2016, the idol group held a special live performance on the poolside at the amusement park Yomiuri Land in Tokyo. The girls were wearing swimsuits on stage.
Some sub-units were created during the summer of 2016: Chou Chou Cream (Koishio Ringo, Mochizuki Miyu), Blue Twins (Nanase Gumi, Amaterasu Omomokoo), and Cotton Rabbits (Suzuhime Misako, Amanatsu Yuzu).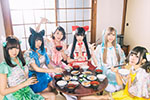 Amaterasu Omomoko changed her stage name to Omomoko Sunrise in January 2017.
Band Ja Naimon! simultaneously released the singles Yakimochi and Yatta in January 2017.
Suzuhime Misako caught influenza and missed some live events in January 2017.
Amanatsu Yuzu won the Sakidol Ace Survival (サキドルエースSurvival) season 6 in March 2017. The contest is organized by Weekly Young Jump (週刊ヤングジャンプ) magazine.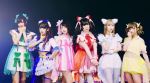 Band Ja Naimon!'s album Kanpeki Shugi no Sekai ni Fukanzen na Ongaku wo♡ (完ペキ主義なセカイにふかんぜんな音楽を♡) was released in March 2017. It includes the song Seishun Karada Da Dash! (青春カラダダダッシュ! ).
The idol group's single Metamoriser, on sale in May 2017, is the ending theme song for the anime Tsugumomo (つぐもも).
Their fans are called "monster" (もんスター).
Profile
Band Ja Naimon! (バンドじゃないもん!, Bandjanaimon!)
Years active : 2012 – present望月みゆ
Label : Pony Canyon
Agency : Perfect Music
Members
Suzuhime Misako (鈴姫みさこ) – Pink
Koishio Ringo (恋汐りんご) – Shioringo (しおりんご) – Red
Nanase Gumi (七星ぐみ) – Light Blue
Mochizuki Miyu (望月みゆ) – Green
Amanatsu Yuzu (甘夏ゆず) – Yuzupon (ゆずポン) – Yellow
Amaterasu Omomoko (天照大桃子) – Chanmomo (ちゃんもも◎) – Omomoko Sunrise (大桃子サンライズ) – Blue
Former Members
Kaneko Saori (金子沙織) – Kacchan (かっちゃん)
Mizutama Ramune (水玉らむね)
Discography
Singles
06/02/2013 : Chocolat Love (ショコラ・ラブ)
21/08/2013 : Up↑ Prime / Takatokotan -Forever- (Up↑ぷらいむ / タカトコタン-Forever)
18/12/2013 : Yuki Furu Yoru ni Kiss Shite (雪降る夜にキスして)
17/09/2014 : Tsunagaru! Kanaderu! Music (ツナガル!カナデル!Music)
25/11/2015 : NaMiDa / White Youth
18/05/2016 : Kimemaster! / Kimochi Dake Sanka Shimasu (キメマスター! / 気持ちだけ参加します。)
24/08/2016 : Natsu no Oh! Vibes (夏のOh!バイブス)
11/01/2017 : Yakimochi
11/01/2017 : Yatta
17/05/2017 : Metamoriser
Albums
03/10/2012 : Band Ja Naimon! (バンドじゃないもん!)
22/04/2015 : Re:start
08/03/2017 : Kanpeki Shugi no Sekai ni Fukanzen na Ongaku wo♡ (完ペキ主義なセカイにふかんぜんな音楽を♡)
Links
News