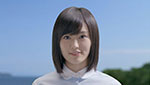 Yamamoto Sayaka (NMB48) appeared in a CM for a solar power system by Panasonic Eco Solutions.
Check out the video and pictures.
Yamamoto Sayaka has been appointed as she has been nicknamed "rain girl" because there is a high probability of rain during events such as handshaking sessions.
This commercial makes fun of Sayane's reputation.
The marketing campaign started on September 12 in Japan.
In addition to scenes filmed in a studio, it includes old photos of Yamamoto Sayaka as a baby and as a child (see below).
Video
Photos