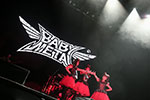 Babymetal Live Legend 1999 & 1997 Apocalypse will be released on DVD and Blu-ray on October 29.
The trailer has been unveiled.
The DVD and the Blu-ray box sets includes 2 concerts performed by Babymetal. Legend 1999 Yuimetal & Moametal Seitansai was held on June 30, 2013 at NHK Hall, Tokyo. Legend 1997 Su-Metal Seitansai took place on December 21, 2013 at Makuhari Messe Event Hall.
Furthermore, Babymetal Back in the USA / UK Live Tour 2014 will be held on November 4 at Hammerstein Ballroom, New York, and on November 8 at O2 Academy Brixton, London.
Legend 1999 Yuimetal & Moametal Seitansai (setlist)
Babymetal Death
Ii ne! (いいね!)
Kimi to Anime ga Mitai (君とアニメが見たい) ~Answer for Animation With You
U Ki U Ki Midnight (ウ・キ・ウ・キ★ミッドナイト)
Chokotto Love (ちょこっとLove) -Big Time Changes ver.-
Love Machine (Loveマシーン) -The Outer Mission ver.-
Onedari Daisakusen (おねだり大作戦)
No Rain, No Rainbow
Catch me if you can
Do Ki Do Ki Morning (ド・キ・ド・キ☆モーニング)
Megitsune (メギツネ)
Ijime, Dame, Zettai (イジメ、ダメ、ゼッタイ)
Akatsuki (紅月-アカツキ-)
Headbanger!! (ヘドバンギャー!!)
Legend 1997 Su-Metal Seitansai (setlist)
Headbanger!! (ヘドバンギャー!!) -Night of 15 mix-
Do Ki Do Ki Morning (ド・キ・ド・キ☆モーニング)
Ii ne! (いいね!)
Tamashii no Refrain (魂のルフラン)
U Ki U Ki Midnight (ウ・キ・ウ・キ★ミッドナイト)
Gimme Choco!! (ギミチョコ!!)
Kimi to Anime ga Mitai (君とアニメが見たい) ~Answer for Animation With You
Megitsune (メギツネ)
Ijime, Dame, Zettai (イジメ、ダメ、ゼッタイ)
Onedari Daisakusen (おねだり大作戦)
Catch me if you can
Headbanger!! (ヘドバンギャー!!)
Akatsuki (紅月-アカツキ-) (Unfinished ver.)
Babymetal Death
Video (Trailer)