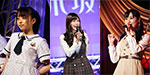 Ito Nene, Yada Risako, Yonetoku Kyoka announced their graduation from Nogizaka46.
The announcement was made on September 12.
The girls are going continue their activities until October 19 by participating in events held for Nogizaka46's 9th single Natsu no Free & Easy (夏のFree&Easy).
Ito Nene joined the idol group in August 2011. She was part of the Senbatsu on the single Kimi no Na wa Kibou (君の名は希望). She was also the heroine of the horror movie Sugisawa Mura Densetsu (杉沢村伝説 劇場版) which was released in June 2014.
Ito Nene is a 1st generation member of Nogizaka46. Yada Risako and Yonetoku Kyoka are Kenkyuusei and are part of the 2nd generation.