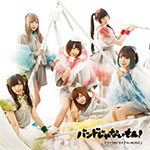 Bandjanaimon's new single Tsunagaru! Kanaderu! Music (ツナガル!カナデル!Music) will be released on September 17.
Amanatsu Yuzu and Takeuchi Momoko are making their first appearance with Bandjanaimon! on this single. They joined the idol group as new members in April.
Check out the MV.
Both songs were composed by Minami Tomoya and Oba Koji. The lyrics were written by the members of Band Ja Naimon!.
The girls are trying cosplay in the music video.
2 editions are available. Each one includes a different "bonus voice".
Tracklist
Tsunagaru! Kanaderu! Music (ツナガル!カナデル!Music)
Prism Rhythm (プリズム☆リズム)
Tsunagaru! Kanaderu! Music (Instrumental)
Prism Rhythm (Instrumental)
Bonus Voice (ボーナスボイス)
Music Video (PV)