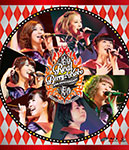 Berryz Kobo Debut 10th Anniversary Concert Tour 2014 Haru ~Real Berryz Kobo~ (Berryz工房デビュー10周年記念コンサートツアー2014春 ~ リアルBerryz工房 ~) will be released on DVD and Blu-ray on June 18.
The concert was recorded on March 3, 2014 at Tokyo Dome City Hall. It was part of Berryz Kobo spring concert tour.
As its title suggests, this event celebrated the 10th anniversary of their debut.
The idol group from Hello! Project performed 28 songs, including a medley, at this live performance.
The DVD and the Blu-ray come with a 2nd disc featuring bonus footage.
Furthermore, Berryz Kobo's 35th single Ai wa Itsumo Kimi no Naka ni / Futsuu, Idol 10-nen Yatterannai Deshou!? (愛はいつも君の中に / 普通、アイドル10年やってらんないでしょ!?) will go on sale on June 6.
Setlist
Opening
Koiseyo! (コイセヨ!)
Otona na no yo! (大人なのよ!)
1-Oku 3-Zenman Sou Diet Oukoku (1億3千万総ダイエット王国 )
Rock Erotic (Rockエロティック )
Madayade
Kono Yubi Tomare! (この指とまれ!)
Real Love
Baka ni Shinaide (バカにしないで)
Girls Times
Onna no ko ni Shika Wakannai Choudo ga Aru no (女の子にしかわかんない丁度があるの)
Mou, Kodomo ja Nai Watashi na no ni… (もう、子供じゃない私なのに…)
Happy! Stand Up
Furare Pattern (フラれパターン )
Be
Yuke Yuke Monkey Dance (行け 行け モンキーダンス)
Medley (メドレー)

Shining Power (シャイニング パワー)
Ryuusei Boy (流星ボーイ)
Seishun Bus Guide (青春バスガイド)
Otakebi Boy Wao! (雄叫びボーイ Wao!)
Maji Bomber!! (本気ボンバー!!)

Yuuki wo Kudasai! (勇気をください!)
Watashi no Mirai no Danna-sama (私の未来のだんな様)
Jiriri Kiteru (ジリリ キテル)
Be Genki(Be 元気)
Munasawagi Scarlet (胸さわぎスカーレット)
Heroine ni Narou ka! (ヒロインになろうか!)
Succhaka Mecchaka~ (すっちゃかめっちゃか~)
– Encore –
Anata Nashi de wa Ikite Yukenai (あなたなしでは生きてゆけない)
Fighting Pose wa Date Janai! (ファイティングポーズはダテじゃない!)
Piriri to Ikou! (ピリリと行こう!)
Bye Bye Mata ne (Bye Bye またね)
Bonus
Hesontoko Yoroshiku (へそんとこヨロシク)
Oheso no Kuni kara Konnichiwa Senbon Knock (おへその国からこんにちは千本ノック)
Momochi Sensei no Advice (ももち先生のアドバイス)
Tagucchi Senpai (たぐっち先輩)