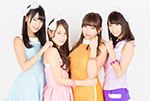 AeLL announced that the idol group is going to go on hiatus for an indefinite period of time.
Each member, Shinozaki Ai, Nishi Erika, Shijou Haruna and Takana Kumi will concentrate on their solo activities.
AeLL will hold a last live performance on September 14, 2014.
The idol group was formed 3 years and a half ago.
We wish them all the best in their future endeavors, and we hope that they will be back together someday.