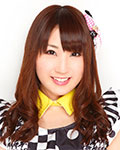 AKB48 member Nakata Chisato has temporarily suspended activities in order to follow a medical treatment.
Nakata Chisato has been diagnosed with pleurisy.
Therefore, she will miss Oshima Yuko's graduation and the 6th AKB48 Senbatsu General Election 2014 (AKB48 選抜総選挙 2014)
An event held by her agency Mousa has also been postponed.
Nakata Chisato is a member of AKB48 Team A. She joined the idol group in 2007.