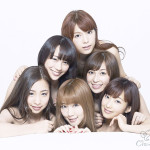 Chu-Z is a Japanese idol group formed in July 2012.
It currently consists of 6 members. Each one of them has been assigned a color.
The idol unit is produced by Sasaki Yohey from Panicrew.
The name Chu-Z is a wordplay with the English word "choose". The meaning is that the members have multiple talents like dancing, singing, talking… that can be selected.
Their dream is to give a concert at Nippon Budokan.
Kobayashi Maia is a former member of Idoling!!!.
Biography / History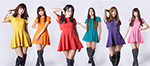 Chu-Z debuted during an event held at Yokohama Blitz in July 2012. According to the legend, only 2 people bought some goods after their performance.
The idol group held its 1st live performance in December 2012 at Club Zone in Hachioji near Tokyo. More than 200 people attended the concert.
Their radio show Chu-Z no Tenka Tottaru! (Chu-Zの天下盗ったる!) was broadcast irregularly on Wallop between October 2012 and March 2013.
Hatsune withdrew in late December 2012.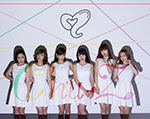 Their 1st single Chu-Z my Life was released in February 2013.
The girls host the show Chu-Shiki Keisan Drill (Chu-式計算ドリル) on Tokai Radio (東海ラジオ) since January 2014.
The idol group released its major debut album Chu-Z my Music in July 2014 under the label Nippon Columbia.
Their 1st major single Bombastic! went on sale in October 2014.
Chu-Z My Live 2014 was held in October 2014 at Shinagawa Stellar Ball, Tokyo.
Tsunku♂ wrote the lyrics and composed the music of their 3rd single Tell Me Why Umaretekita Imi wo Shiritai (Tell me why 生まれて来た意味を知りたい) which is going to be released in July 2015. The costumes were designed by Hinanchu (Silent Siren).
Profile
Chu-Z (チューズ)
Years active : 2012 – present
Label : Nippon Columbia
Agency : Good Choice Entertainment
Members
Maia (麻衣愛) – Pink
Asuka (あすか) – Yellow
Luna (るな) – Purple
Kana (かな) – Red
Miku (みかえで)  – Orange
Kaede (かえで) – Green
Former Members
Discography
Singles
20/02/2013 : Chu-Z my Life
10/07/2013 : Chu Me Now!! / Bow Wow
30/10/2013 : a.no.ne
01/10/2014 : Bombastic! (ボンバスティック!)
11/02/2015 : Hana no Arch / Brand Boy
01/07/2015 : Tell Me Why Umaretekita Imi wo Shiritai (Tell me why 生まれて来た意味を知りたい)
Albums
09/07/2014 : Chu-Z my Music
Links
News