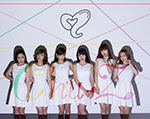 Chu-Z will release their new single Bombastic! (ボンバスティック!) on October 1st.
This is the 1st major single from Chu-Z since the idol group signed under the label Nippon Columbia.
The MV has been unveiled.
Bombastic! is an electro dance music song.
In the video clip, the members of Chu-Z perform their choreography with big glowsticks which refer to the title of the single. It was filmed at the night club Ele Tokyo where Lady Gaga went during her last visit in Japan.
The Type A comes with a bonus DVD featuring the music video and making-of footage.
The Type B and C editions include the songs Onegai Squall (おねがいスコール) and iya iya iya performed by the sub-units Sun-Chu♡ (Asuka, Kana, Miku) and Bling Bling Princess (Maia, Luna, Kaede).
Furthermore, Chu-Z My Live 2014 ~Chu-Z Train Shinagawa Stellar Ball ni  Chu~ (~Chu-Z トレイン品川ステラボールに停車Chu~) will be held on October 5th at Shinagawa Stellar Ball, Tokyo.
Tracklist
Type A

CD

Bombastic! (ボンバスティック!)
Direct to U
Bombastic! (Instrumental)
Direct to U (Instrumental)

DVD

Bombastic! (Music Video)
Making-of
Type B

CD

Bombastic!
Direct to U
Onegai Squall (おねがいスコール) / Sun-Chu♡
Type C

CD

Bombastic!
Direct to U
iya iya iya / Bling Bling Princess
Music Video (PV)