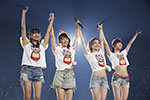 Not Yet Already 2014.5.10 1st Live will be released on DVD and Blu-ray on October 15th.
The concert took place at Ariake Coliseum. The members of the idol group performed 23 songs including their greatest hits.
Not Yet is a sub-unit of AKB48 consisting of Oshima Yuko, Sashihara Rino, Yokohama Yui and Kitahara Rie.
The trailer has been unveiled.
The DVD and the Blu-ray include backstage footage and a 20-page full color booklet.
They come with a lottery ticket to win autographed items such as B2-size posters and other goods.
The live performance was held just after the release of Not Yet's 1st album Already.
Setlist
Not yet Overture
Sekai no Kaze wo Bokura wa Ukete (世界の風を僕らは受けて)
Hiri Hiri no Hana (ヒリヒリの花)
Suika Baby (西瓜Baby)
-MC-
Mikata (味方)
Shuumatsu Not Yet (週末Not yet)
Bakuhatsu Professor (爆発プロフェッサー)
Bokutachi no Offshore (僕たちのオフショア)
guilty love
Sunao ni Naritai (素直になりたい)
Hug Tomo (ハグ友)
Pera Pera Perao (ペラペラペラオ)
-MC-
Hira Hira (ひらひら)
Vermeer no Tegami (フェルメールの手紙)
Uminari yo (海鳴りよ)
May
Mienai Sora wa Itsudemo Aoi (見えない空はいつでも青い)
Warau ga Ii (笑うがいい)
Naminori Kakiori (波乗りかき氷)
Moshimo, Tsunagaideitara (もしも、手を繋いでいたら)
-MC-
Tsugi no Pierce (次のピアス)
~Encore~
Arekara Earl Grey wo Nondeinai (あれからアールグレイを飲んでいない)
Sekai no Kaze wo Bokura wa Ukete (世界の風を僕らは受けて)
-MC-
Already
Bonus

Live Making Movie (Liveメイキング映像)
Not yet 2011.1.21
Video (digest)