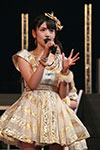 Michishige Sayumi announced that she was going to take a break from the entertainement industry after her graduation from Morning Musume and Hello! Project.
Michishige Sayumi made herself the announcement on September 20th during the first live performance of Morning Musume '14 Concert Tour Aki Give Me More Love at Harmony Hall Zama,
She explained to the fans that she was tired after having spent a large part of her life in the show business as a member of Morning Musume. She wants to stop her activities for an indefinite period of time.
During this live performance, the 10 members of the idol group seemed nervous on stage.
Michishige Sayumi's graduation ceremony and last concert will be held on November 26th at the Yokohama Arena.
Edit : Text corrected because of a mistranslation