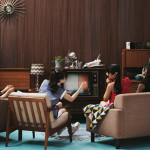 Dempagumi.inc (でんぱ組.inc) is a Japanese idol group formed in 2008.
It currently consists of 6 members. Each one has been assigned a color.
The leader is Aizawa Risa.
Biography / History
The idol unit holds regular live performances at Dear Stage Live Bar in Akihabara, Tokyo.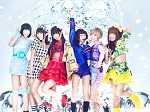 Dempagumi.inc host a radio show titled Bibi to Denpa Jack Now! (ビビッと☆でんぱジャックなう!) broadcast on FM Fuji.
They participated in Japan Expo France in Paris in July, and then at Japan Expo USA in Santa Clara in August 2013.
The girls were starring in the drama Shiro Majo Gakuen (白魔女学園) broadcast in September 2013. The story is about new students arriving at White Witch Academy to study witchcraft and magic.
Dempagumi.inc and BiS released the collaboration single Denden Passion / Idol (でんでんぱっしょん / Idol) in October 2013. It was on sale exclusively at live venues.
They performed at Marble Wonderland by Asia 可愛 Way in Singapore in November 2013.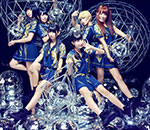 In April 2014, Yumemi Nemu appeared in a commercial for the energy dring S-Cup.
In April 2014, Furukawa Mirin, Aizawa Risa, Yumemi Nemu, Naruse Eimi and Fujisaki Ayane were transported to hospital due to carbon monoxide poisoning during the filming of Shiro Majo Gakuen season 2.
Dempagumi.inc gave their first concert at Nippon Budokan in May 2014.
I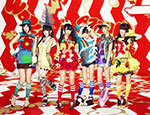 n the spring of 2014, the girls appeared in a funny TV commercial for Samurai cup noodles along with wota. The CM song is on their single Chururi Churirira (ちゅるりちゅるりら).
They participated in Kawaii Pop Fes in Hong Kong in June 2014 along with other idol groups.
In July 2014, Furukawa Mirin was appointed as official support member of Groove Coaster EX (グルーヴコースターEX) video game.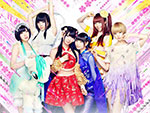 In August 2014, a campaign has been launched in collaboration between Dempagumi.inc and Joysound karaoke.
During the same month, the girls threw the ceremonial first pitch and held a mini-live performance before a baseball game at Yokohama Stadium.
They were appointed as PR ambassadors of Eastern Asian culture at the Yokohama Triennale 2014 (ヨコハマトリエンナーレ2014). The event was an international exhibition of contemporary art.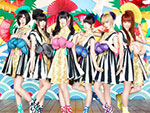 Dempagumi.inc work in collaboration with LinQ on the single Wessai!! Gassai!! (ウェッサイ!!ガッサイ!!) released in September 2014 by the idol group from Fukuoka, Kyushu. Yumemi Nemu and Aizawa Risa made respectively the music video and the design of the costumes.
The variety show Dempa Jack -World Wide Akihabara- (でんぱジャック-World Wide Akihabara-) started airing on Fuji TV in October 2014. In this program, the girls talk about the otaku culture. They perform the theme song Bari 3 Kyouwakoku (バリ3共和国) which is on their single Dempari Night (でんぱーりーナイト).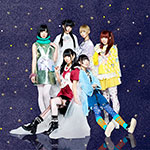 Dempagumi.inc participated in Anime Idol Asia 2014 in Bangkok, Thailand, in October 2014 along with Yumemiru Adolescence and Kamen Rider Girls.
In November 2014,Yumemi Nemu appeared in a TV commercial for Yahoo! Auction in a sexy yellow costume.
The idol group released limited clothes and items in collaboration with the Japanese fashion brand Spinns (スピンズ) in late November 2014.
The girls were appointed as models for the campaign Clearstone X'mas Collection 2014 in December 2014.
They appeared on Shibuya 109's New Year's sale advertisement.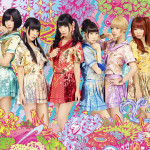 The colorful design of the album WWDD, released in February 2015, was made by Shiga Takumi who directed some music videos of Dempagumi.inc. Each member of the idol group has been assigned a monster character. The monsters and the jungle motif were drawn by cartoonist Taniguchi Natsuko.
Aizawa Risa and Yumemi Nemu wrote their own recipe books titled Risagohan Recipe and Yumemi Noki no Ryouri (夢眠軒の料理). Both members give cooking advice. They were published in February 2015.
In February 2015, the idol group collaborated with Tower Records to create original headphones.
Dempa la mode でんぱ組.inc visual artist book was published in February 2015. It includes interviews and pictures.
In March 2015, the girls dressed up as Phantom of the Kill (ファントム オブ キル) characters to promote the smartphone RPG game.
In April 2015, Furukawa Mirin became a regular on the TV show Oha Suta (おはスタ).
The exhibition Dempagumi.inc ~Welcome to Den Den Park~ (でんでんパーク) was held in April 2015 at Roppongi Hills umu in Tokyo.
The sequel of their drama Dempa Connection (でんぱコネクション) was broadcast in April 2015 on tvk and Nico Nico.
In April 2015, the girls appeared in a commercial for Kirin' Mets litchi soft drinks.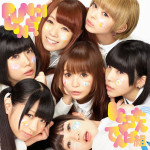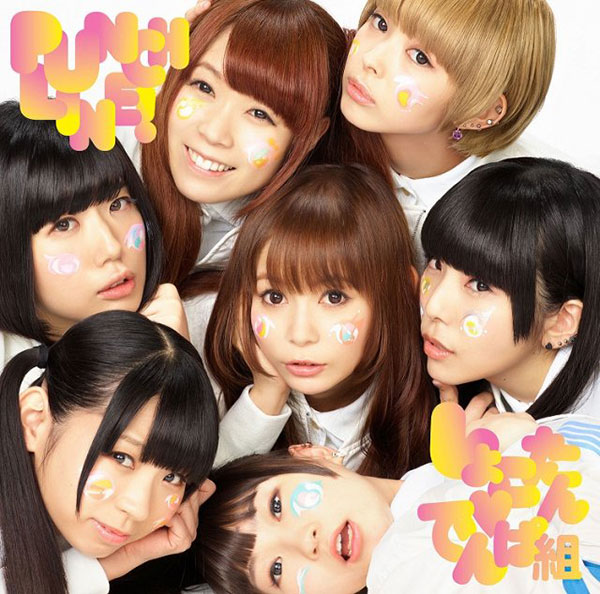 The idol group and Nakagawa Shoko formed a special unit called Shokotan♥Dempagumi (しょこたん♥でんぱ組) to release the single Punch Line in April 2015. It is the opening theme for the anime series of the same name.
Naruse Eimi hosts her own variety show Naruse Eimi ga Age Age de Manga wo Shoukai Suru Bangumi (成瀬瑛美がアゲアゲでマンガを紹介する番組) on Fuji TV since May 2015. As an otaku, she talks about anime and manga with various guests.
The girls were starring in the movie Shiro Majo Gakuen Owari to Hajimari (白魔女学園 オワリトハジマリ) released in June 2015. It is the sequel of their 2013 drama.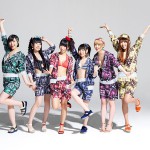 The title of the single Otsukare Summer! (おつかれサマー!), on sale in June 2015, is a word play with the Japanese phrase Otsukare-sama (お疲れ様). The lyrics were written by Kitagawa Yujin (Yuzu), and the music composed by Hyadain.
At the same period, they collaborated with Hello Kitty as part of the special unit PokeMuhi Motta Dempagumi.inc to Hello Kitty (ポケムヒもったでんぱ組.incとハローキティ) on the single Munasawagi no Himitsu?! (ムなさわぎのヒみつ?!) to promote Pocket Muhi insect bite medicine.
Dempagumi.inc participated in Japan Expo 2015 in Paris Nord Villepinte, France, in July. Check out our photos and videos of the live performance.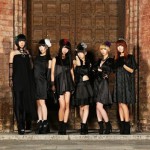 They pursued their Europe Tour by performing at Japan Salone in Milan, Italia, and at Hyper Japan Festival 2015 in London, UK, a few days later.
The 2.5D exhibition Aizawa Risa Seitan Kinen Ten -memento- (相沢梨紗生誕記念展 -memento-) was held in August 2015 in Tokyo.
Mogami Moga's 1st photobook Moga was published in December 2015. It includes pictures of the idol in swimsuit an in cosplay.
Aizawa Risa dubbed the voice of Johnny Depp's daughter in the Japanese version of the movie Tusk in 2015.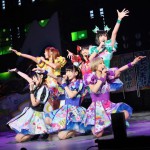 The girls collaborated with X-Girl fashion brand in January 2016.
Dempagumi.inc released successively 3 digital singles in 3 months between January and March 2016 : Ha! to the Future (破!to the Future), Fanfare wa Bokura no Tame ni (ファンファーレは僕らのために and Star☆t Shichauze Haru Dashi ne (STAR☆ットしちゃうぜ春だしね).
Mogami Moga appeared in a commercial for the RPG game 100 Sleeping Princes & the Kingdom of Dreams (夢王国と眠れる100人の王子様) in March 2016.
Takumi Shiga was in charge of the art direction of the album GOGO DEMPA on sale in April 2016. He worked in collaboration with famous illustrators Ai☆Madonna, Asano Inio, Ichasu, Saigo no Shudan, Taniguchi Natsuko and Yoko.
The idol group performed Ohare! Warera ga Sekai no Chuushin (あはれ!我らが世界の中心) which is the theme song for the anime Ohare! Meisaku-kun (あはれ!名作くん) airing on NHK Eテレ since April 2016.
Dempagumi.inc collaborated with Spinns fashion brand to create T-shirts and caps for the event iCon Doll Lounge ~2016 Spring & Summer Collection~ in April 2016.
Profile
Dempagumi.inc (でんぱ組.inc)
Years active : 2008 – present
Label : Meme Tokyo
Agency : Moe Japan
Members
Aizawa Risa (相沢梨紗) – White
Furukawa Mirin (古川未鈴) – Red
Yumemi Nemu (夢眠ねむ) – Green
Naruse Eimi (成瀬瑛美) – Yellow
Mogami Moga (最上もが) – Purple
Fujisaki Ayane (藤咲彩音) – Blue
Former Members
Atobe Miu (跡部みぅ)
Owata Akari (小和田あかり)
Discography
Singles
??/12/2008 : Mirror Magic?
24/02/2010 : Kiss+kiss de Owaranai (Kiss+kissでおわらない)
06/07/2011 : Piko Piku Pikatte Koishite yo (ピコッピクッピカッて恋してよ)
16/11/2011 : Future Diver
23/05/2012 : Demparade Japan / Tsuyoi Kimochi, Tsuyoi Ai (でんぱれーど Japan / 強い気持ち・強い愛)
18/07/2012 : Kira Kira Tune / Sabotage (キラキラチューン / Sabotage)
16/01/2013 : W.W.D / Fuyu e to Hashiri Dasu o! (W.W.D / 冬へと走りだすお!)
29/05/2013 : Denden Passion (でんでんぱっしょん)
02/10/2013 : W.W.D. II
12/03/2014 : Sakura Apparition (サクラあっぱれーしょん)
14/05/2014 : Dear Stage e Yokoso (Dear☆Stageへようこそ)
30/07/2014 : Chururi Churirira (ちゅるりちゅるりら)
26/11/2014 : Dempari Night (でんぱーりーナイト)
17/06/2015 : Otsukare Summer! (おつかれサマー!)
16/09/2015 : Ashita Chikyuu ga Konagona ni Nattemo (あした地球がこなごなになっても)
Digital Singles
16/08/2013 : Not Bocchi… Natsu (ノットボッチ…夏)
09/10/2015 : Eikyuu Zombie na (永久ゾンビーナ)
18/12/2015 : Dem Dem X'mas
08/01/2016 : Ha! to the Future (破!to the Future)
05/02/2016 : Fanfare wa Bokura no Tame ni (ファンファーレは僕らのために)
04/03/2016 : Star☆t Shichauze Haru Dashi ne (STAR☆ットしちゃうぜ春だしね)
Collaboration Singles
12/10/2013 : Denden Passion / Idol (でんでんぱっしょん / Idol) (BiS × Dempagumi.inc)
12/11/2014 : Ai ga Aru kara!! (愛があるから!!) (Dempagumi.inc × gdgd)
29/04/2015 : Punch Line! (Shokotan♥Dempagumi.inc)
17/06/2015 : Munasawagi no Himitsu?! (ムなさわぎのヒみつ?!) (PokeMuhi Motta Dempagumi.inc to Hello Kitty)
Albums
14/12/2011 : Nee Kiite? Uchuu wo Sukuu no wa, Kitto Osushi… de wa Naku, Dempagumi.inc! (ねぇきいて?宇宙を救うのは、きっとお寿司…ではなく、でんぱ組.inc!)
11/12/2013 : World Wide Dempa
18/02/2015 : WWDD
27/04/2016 : GOGO DEMPA
Live Albums
13/10/2013 : Ai no Passion! ~Minna ga Arushi Chuugen ya de in Osaka Castle Hall~ (「夏のパッション! ~みんながおるし仲間やで in 大阪城野外音楽堂)
Links
News