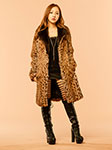 Itano Tomomi (AKB48) and some Nogizaka46 members will appear in the drama Bad Boys J.
Itano Tomomi will play the role of Naki Kaori, the boss of a female delinquent group.
Nogizaka46 members Hashimoto Nanami, Matsumura Sayuri, Akimoto Manatsu, Ito Marika, and Ito Nene will also make an appearance in the drama. Hashimoto Nanami will play the role of the heroine Yoshimoto Kumi.
The drama is based on Tanaka Hiroshi's manga Bad Boys.
Bad Boys J will start airing on April 6. It will be broadcasted every Saturday at 0:50 on NTV (Nippon Television).