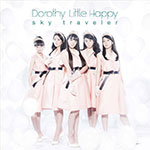 Dorothy Little Happy's new single Sky Traveler will be released on July 16.
The lyrics of the coupling song Keep on Tryin' were written by Dorothy Little Happy's leader Shirato Kana.
The MV has been released.
Sky Traveler is described as a pop tune with a fresh melody.
In July, it will be the ending theme song for the TV shows Pon! and Music Dragon (ミュージックドラゴン) on NTV (日本テレビ系, Nippon Television), and Night Shuffle (ナイトシャッフル) on Fukuoka Broadcasting System (福岡放送).
It was performed for the first time in April at Tsutaya O-East in Tokyo at Dorothy Little Happy national tour.
The first press editions come with a photo randomly selected.
Type A and B include DVD featuring the music video or off shot footage.
Type C contains a bonus track.
Tracklist
Type A / B

CD

Sky Traveler
Keep on Tryin'
Sky Traveler (Instrumental)
Keep on Tryin' (Instrumental)

DVD (Type A)

Sky Traveler – Music Video –

DVD (Type B)

Dorothy wa Traveler (ドロシーはトラベラー) – Off Shot –
Type C

CD

Sky Traveler
Koi no Hanabi (恋の花火)
Keep on Tryin'
Sky Traveler (Instrumental)
Koi no Hanabi (恋の花火) (Instrumental)
Keep on Tryin' (Instrumental)
Music Video (PV)