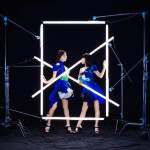 Faint★Star's 4th single Never Ever (ネヴァエバ) will be on sale on April 9th.
The idol group worked in collaboration with Asobisystem art director 2Boy on this single.
Check out the MV and the video of Faint★Star Live! at Tokyo Sound Collection Fes.
Never Ever is the theme song for the movie Dokumushi (ドクムシ).
2Boy provided a cool futuristic artist image. The music aims to express strong feelings.
Moreover, Faint Star will hold a release party on April 8th at Glad in Tokyo. ☆Taku Takahashi (m-flo, block.fm), Ikeuchi Yoshikatsu and Yoshida Rinne will perform as guests.
Tracklist
Never Ever (ネヴァエバ)
Hoozuki
Ms. Question
Never Ever – ☆Taku Takahashi Remix –
Destruction – 池内ヨシカツ Remix –
Music Video (PV)
Live