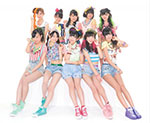 GEM (Girls Entertainment Mixture) is a Japanese idol group formed in December 2012 by iDOL Street.
It currently consists of 10 members who were selected from iDOL Street Street-sei (ストリート生). Each one of them has been assigned a gemstone.
The leader is Kanazawa Yuki.
GEM is a sister group of Super☆Girls and Cheeky Parade.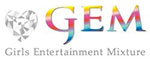 The meaning of the unit's name is that these girls "are going to become like precious stones one they will be polished". It is also an abbreviation for "Girls Entertainment Mixture".
Biography / History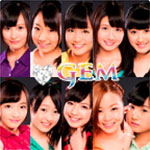 On June 12, 2013, the 10 official members have been announced during a concert held at Nippon Budokan to celebrate the 3rd anniversary of Super☆Girls.
GEM released their major debut single We're GEM on January 1, 2014.
In March, the idol unit was chosen as supporters of Shizuoka Marathon 2014 (静岡マラソン2014).
Their 1st nationwide concert tour GEM Live Mixture 2014 ~Black or White~ took place between March and May in Nagoya, Tokyo, Fukuoka and Shizuoka.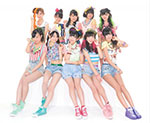 In April 2014, the members were appointed as image characters for Revive Moist shampoo. They appeared in commercials.
In July 2014, Takeda Maya became a police officer for one day in Fukui Prefecture. She participated in a transportation safety campaign and in crime-prevention programs.
In October 2014, Kanazawa Yuki was starring in the stage play Debug Treasure (デバッグトレジャー) along with Miyazaki Rina (Super☆Girls).
Profile
GEM (Girls Entertainment Mixture)
Years active : 2012 – present
Label : iDOL Street
Agency : Avex Management
Members
Kanazawa Yuki (金澤有希) – Amethyst
Ito Chisami (伊藤千咲美) – Pearl
Morioka Yu (森岡悠) – Citrine
Minamiguchi Nana (南口奈々) – Aquamarine
Kumashiro Jurin (熊代珠琳) – Black Diamond
Oguri Kako (小栗かこ) – Alexandrite
Murakami Rana (村上来渚) – Emerald
Takeda Maya (武田舞彩) – Star Ruby
Iyama Maho (伊山摩穂) – Fire Opal
Hirano Sara (平野沙羅) – Peridot
Former Members
Oozeki Nagi (大関凪) – Sapphire
Asakawa Nana (浅川梨奈) – Rose Quartz
Sakamoto Hazuki (坂元葉月) – Rhodolite Garnet
Uchimura Risa (内村莉彩) – Diamond
Discography
Singles
21/01/2013 : Sutorigu (ストリーーーーーグ)
27/07/2013 : Speed Up / Do It Do It
18/08/2013 : BeStreet
01/01/2014 : We're GEM
04/06/2014 : Do You Believe?
Albums
Links
News