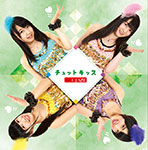 Grazie's new single Chutto Kiss (チュットキッス) will be released on June 16.
This is the 2nd single from Grazie.
A video of the coupling song Gozaru! (ござる!) recorded at a live performance has been released.
The producer Narita Naohita worked on the lyrics of both songs. The music was composed and arranged by Koma'n.
Moreover, Grazie will hold live performances on June 1 and 8 at Shinjuku Red Nose in Tokyo.
Tracklist
Chutto Kiss (チュットキッス)
Gozaru! (ござる!)
Chutto Kiss (チュットキッス ~Grazieは今頃なにしてるんだろう? Ver.~)
Gozaru! (ござる! ~Grazieは今頃なにしてるんだろう? Ver.~)
Video (Live)