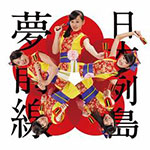 Hachikin Girls' new single Nihon Rettou Yume Zensen (日本列島夢前線) will be released on August 7.
The CD includes 3 different songs
Only one edition is available.
As its title suggests, he coupling track Hachikin Girl is the theme song of the idol group.
The 2nd B-side track Bokutachi no Chikyuu delivers a message on ecology.
Tracklist
Nihon Rettou Yume Senzen (日本列島夢前線)
Hachikin Girl (はちきんガール)
Bokutachi no Chikyuu (ぼくたちの地球)
Nihon Rettou Yume Senzen (日本列島夢前線) (Instrumental)