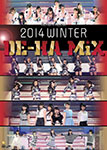 Hello! Project 2014 Winter was released on DVD on March 26.
The complete edition will be available on Blu-ray on April 30.
2 different live shows titled Goisu Mode and De-Ha Mix were performed. They have their own setlist.
The concert tour Hello! Project Winter 2014 will be held from January 2 to February 16. It took place in Tokyo, Hiroshima, Nagoya, Sapporo, Fukuoka, Sendai, and Osaka.
Morning Musume, Berryz Kobo, °C-ute, S/mileage, Juice=Juice, Hello! Pro Kenshuusei, and Bitter & Sweet participated in the live performances.
The MCs were Makoto and Mitsui Aika.
Schedule
02/01/2013 – 06/01/2013 : Nakano Sun Plaza, Tokyo
12/01/2013 : Ueno Gakuen Hall, Hiroshima
18/01/2013 – 19/01/2013 : NTK Hall, Nagoya
25/01/2013 : Nitori Bunka Hall, Sapporo
01/02/2013 : Civic Hall, Fukuoka
11/02/2013 : Sun Plaza Hall, Sendai
15/02/2013 – 16/02/2013 : Orix Theater, Osaka
Hello! Project 2014 Winter ~Goisu Mode~ Setlist
Opening
Egao no Kimi wa Taiyou sa (笑顔の君は太陽さ)
Cha Cha Sing
MC
Oheso no Kuni kara Konnichiwa (おへその国からこんにちは) (Hello Pro Kenshuusei)
MC
What is Love? (Morning Musume '14)
Ijiwaru Shinaide Dakishimete yo (イジワルしないで 抱きしめてよ) (Juice=Juice)
Ee ka!? ええか!? (S/mileage)
Tokai no Hitorigurashi (都会の一人暮らし) (°C-ute)
Otona na no yo! (大人なのよ!) (Berryz Kobo)
MC
Romance no Tochuu (ロマンスの途中) (Juice=Juice)
Yattaruchan (ヤッタルチャン) (S/mileage)
Ai no Gundan (愛の軍団) (Morning Musume '14)
MC
Kanashiki Amefuri (悲しき雨降り) (°C-ute)
Rock Erotic (Rockエロティック) (Berryz Kobo)
MC
Bitter & Sweet (Bitter & Sweet)
MC
Egao ni Namida ~Thank You! Dear my Friends~ (笑顔に涙~Thank You! Dear my Friends~) (Nakajima Saki)
My Days for You (Michishige Sayumi)
MC
– Goisu Mode Special Medley (スペシャルメドレー) –
Ten made Nobore! (天まで登れ!) (Juice=Juice)
A B C D E-cha E-chaしたい (Morning Musume '14)
Bagel ni Ham & Cheese (ベーグルにハム&チーズ) (°C-ute + Hello Pro Kenshuusei)
Sayonara Usotsuki no Watashi (サヨナラ ウソつきの私) (Berryz Kobo)
Samidare Bijou ga Samidareru (五月雨美女がさ乱れる) (Juice=Juice)
Atarashii Watashi ni Nare! (新しい私になれ!) (S/mileage)
Watashi, Choito Kawaii Urabanchou (私、ちょいとカワイイ裏番長) (S/mileage + Hello Pro Kenshuusei)
Adam to Eve no Dilemma (アダムとイブのジレンマ) (°C-ute)
Motto Zutto Issho ni Itakatta (もっとずっと一緒に居たかった) (Berryz Kobo)
One・Two・Three (Morning Musume '14)
MC
Kachoii Uta (かっちょ良い歌)
Hello! Project 2014 Winter ~De-Ha Mix~ Setlist
Opening
Romance no Tochuu (ロマンスの途中)
Dokkan Capriccio (ドッカ~ン カプリッチオ)
MC
Ten made Nobore! (天まで登れ!) (Hello Pro Kenshuusei)
MC
Jishin Motte Yume wo Motte Tabidatsu kara (Sayashi Riho)
I & You & I & You & I (Michishige Sayumi / Masaki Sato / Hagiwara Mai / Uemura Akari)
The Bigaku (The 美学) (Suzuki Kanon / Fukuda Kanon + Hello Pro Kenshuusei)
Shortcut (ショートカット) (Ikuta Erina / Kudo Haruka / Tokunaga Chinami / Sudo Maasa / Okai Chisato)
MC
Suppin to Namida (スッピンと涙) (Sugaya Risako)
Kanashiki Heaven (悲しきヘブン) (Oda Sakura / Miyamoto Karin)
Sakura Mankai (さくら満開) (Iikubo Haruna / Kumai Yurina / Suzuki Airi / Wada Ayaka + Hello Pro Kenshuusei)
MC
Bitter & Sweet (Bitter & Sweet)
Nikutai wa Shoujiki na Eros (肉体は正直なEros) (Fukumura Mizuki / Sugaya Risako / Kanazawa Tomoko)
Heroine ni Narou ka! (ヒロインになろうか!) (Sayashi Riho / Ishida Ayumi / Nakajima Saki / Nakanishi Kana / Takeuchi Akari / Miyazaki Yuka + Hello Pro Kenshuusei)
Only You (Shimizu Saki / Tsugunaga Momoko / Natsuyaki Miyabi / Yajima Maimi / Katsuta Rina / Tamura Mei / Takagi Sayuki)
Iza, Susume! Steady Go! (いざ、進め! Steady go!)
MC
Oheso no Kuni kara Konnichiwa (おへその国からこんにちは) (Hello Pro Kenshuusei)
MC
Egao no Kimi wa Taiyou sa (笑顔の君は太陽さ) (Morning Musume '14)
Uchouten Love (有頂天Love) (Juice=Juice)
Hajimete wo Keikenchuu (初めてを経験中) (Juice=Juice)
Asian Celebration (アジアン セレブレイション) (Berryz Kobo + Morning Musume '14 + Hello Pro Kenshuusei)
Ii Yatsu (「良い奴」) (S/mileage)
Aitte Motto Zanshin (愛ってもっと斬新) (°C-ute)
MC
1-oku 3-senman Sou Diet Oukoku (1億3千万総ダイエット王国) (Berryz Kobo)
Watashi ga Iu mae ni Dakishimenakyane (私が言う前に抱きしめなきゃね) (Juice=Juice + S/mileage + Hello Pro Kenshuusei)
Wagamama Ki no Mama Ai no Joke (わがまま 気のまま 愛のジョーク) (Morning Musume '14)
Sekaiichi Happy na Onna no ko (世界一Happyな女の子) (°C-ute + Berryz Kobo + Hello Pro Kenshuusei)
MC
Happy Daisakusen (Happy大作戦)