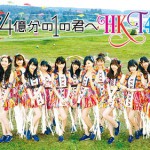 HKT48 is a Japanese idol group formed in 2011.
They are based in Kyushu and perform regularly at HKT48 Theater in Fukuoka. The venue is located on the 2nd floor of Hawks Town Mall (ホークスタウンモール).
The idol unit currently consists of Team H, Team KIV and Kenkyuusei.
The origin of their name comes from Hakata, one of the 7 wards of Fukuoka.
HKT48 is a sister group of AKB48, SKE48, and NMB48.
Biography / History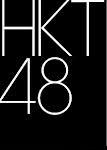 The creation of HKT48 was announced in May 2011 during a handshake event held by AKB48.
In July 2011, 24 girls passed the final round of auditions and joined the idol group as 1st generation members.
They made their first public appearance in October 2011 at Seibu Dome along with AKB48.
Their 1st Stage Te wo Tsunaginagara (手をつなぎながら) started in December 2011.
Team H was formed in March 2012. 16 members from Kenkyuusei were selected to join the unit.
Komori Yui withdrew in April 2012. She pursues her activities as a member of GALETTe since November 2013.
Miyawaki Sakura ranked 47th at the AKB48 27th Single Senbatsu Sousenkyo (AKB48 27thシングル 選抜総選挙) in June 2012. She was part of Next Girls.
2nd generation auditions were held in June 2012. 34 girls passed the final round.
In July 2012, Sashihara Rino was transferred from AKB48 to HKT48 due to a scandal. An article was published in the tabloid Shukan Bunshun (週刊文春) about alleged sexual relations between her and her boyfriend. She subsequently denied.
The variety show HaKaTa Hyakkaten (HaKaTa百貨店) was broadcast between October 2012 and March 2013 on Nippon Television (日本テレビ). Every week, a member of AKB48 or SKE48 participated in the TV show as guest. They had to choose their "oshimen" among the members of HKT48 who were facing various challenges. The program was hosted by Sasshi.
The idol group announced its major debut under the label Universal Music in November 2012.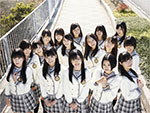 Their 1st single Suki! Suki! Skip! (スキ!スキ!スキップ!) was released in March 2013.
The Waiting Stage HKT48 Team H Hakata Legend (博多レジェンド) was performed between March 2013 and April 2014.
Sashihara Rino was appointed as HKT48 Theater manager in May 2013.
Sashihara Rino reached the 1st rank at the 5th AKB48 Senbatsu General Election in June 2013 with 150,570 votes. As the winner, she was the center on AKB48's 32th single Koi Suru Fortune Cookie (恋するフォーチュンクッキー). Miyawaki Sakura ranked 26th, Kodama Haruka 37th, Ota Aika 43rd, and Tomonaga Mio 59th.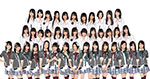 The variety show HKT48 Tonkotsu Mahou Shoujo Gakuin (HKT48 トンコツ魔法少女学院) was broadcast between July and September 2013 on NTV (日本テレビ, Nippon Television). It was competing against Nogizaka46's Nogibingo!. The highest rated episode will air before the other program on the next week.
The list of the 9 members of the 3rd generation was unveiled in November 2013.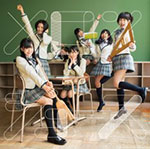 An official shop was opened for a limited time between November 2013 and January 2014 at Canal City Hakata in Fukuoka.
Their 1st concert tour HKT48 Kyushu 7 Prefecture Tour ~Kawaii Ko ni wa Tabi wo Saseyo~ (HKT48九州7県ツアー ~可愛い子には旅をさせよ~) was held between January and March 2014.
The creation of Team KIV and a Team Shuffle were announced in January 2014. 17 Kenkyuusei have been promoted as "new class". Some other members have also been transferred.
Their 3rd single Sakura, Minna de Tabeta (桜、みんなで食べた) was released in March 2014. The centers were Tashima Meru and Tomonaga Mio.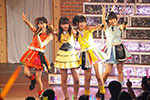 Team H 2nd Stage Seishun Girls (青春ガールズ) started in April 2014.
HKT48 no Goboten (HKT48のごぼてん!) variety show started airing on TV Nishinippon in May 2014.
Nakanishi Chiyori was transferred to AKB48 and Tani Marika to SKE48 in April 2014.
Their 1st nationwide tour HKT48 Arena Tour ~Kawaiiko ni wa Motto Tabi wo Saseyo~ (HKT48アリーナツアー ~可愛い子にはもっと旅をさせよ~) took place from April to July 2014 in Tokyo, Osaka, Nagoya and Fukuoka.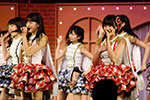 Team KIV 1st Stage Theater no Megami (シアターの女神) started in May 2014.
In September 2014, the girls participated in a campaign for the Japanese sweets company Lotte. The members dressed up in costumes for Halloween and posted the videos on a special website. Kumazawa Serina won the costume contest and appeared on billboards.
The idol group performed at the 65th NHK Kouhaku Uta Gassen (第65回NHK紅白歌合戦) in Décember 2014. It was their first appearance on this popular annual music show broadcast on New Year's Eve.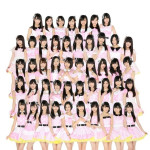 HKT48 gave their first overseas concerts in Taipei (Taiwan) in December 2014 and in Hong Kong in January 2015.
The girls acted in the stage play HKT48 Sashihara Rino Zachou Kouen (HKT48 指原莉乃座長公演) in April 2015.
Miyawaki Sakura's 1st photobook Sakura (さくら) was published in July 2015.
HKT48 1st official history book Kusattara, Make (腐ったら、負け) was released in August 2015. It traces the history of the idol group since its creation.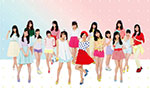 Matsuoka Natsumi released her 1st photobook Tsuishin (追伸) in September 2015.
Goto Izumi announced her graduation in October 2015.
In November 2015, HKT48 collaborated with Lotte as part of a campaign entitled HKTree360°. Each members was filmed while decorating a Christmas tree, and the one whose video got the most points could be the guest of a radio show on FM Fukuoka.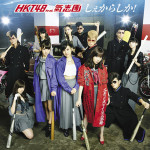 Their 6th single Shekarashika! (しぇからしか), on sale in November 2015, featured rock band Kishidan (氣志團).
Umemoto Izumi left the idol group in December 2015.
The variety show HKT48 vs NGT48 Sashikita Gassen (さしきた合戦) started airing on Nippon TV in January 2016.
尾崎支配人が泣いた夜 Documentary of HKT48 was released in January 2016.
Ito Raira graduated in February 2016.
As its name suggests, the show HKT48 Spring Live Tour ~Sashiko du Soleil 2016~ (HKT48 春のライブツアー ~サシコ・ド・ソレイユ 2016~) was inspired by Cirque du Soleil.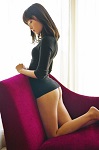 Sashihara Rino's 3rd photobook Scandal Addiction (スキャンダル中毒) was published in March 2016. It includes sexy pictures of her as a gravure idol.
Tomonaga Mio released her 1st photobook Hinata (日向) in the same month.
HKT48 4th generation auditions were held in March and in April 2016.
The title song of their 7th single 74 Okubun no 1 no Kimi e (74億分の1の君へ), on sale in April 2016, is used in a commercial for Tokyo Monorail featuring the members of the idol group.
Ota Aika is starring in the horror movie Toire no Hanako-san Shinshou ~Hanako vs Yosuke~ (トイレの花子さん新章 ~花子VSヨースケ~) along with Shida Yuumi (Yumemiru Adolescence) and Yokoyama Rurika (ex Idoling!!!). It will be released in theaters in the summer of 2016.
Profile
HKT48
Years active : 2011 – present
Label : Universal Music
Agency : AKS
Members
Team H
Akiyoshi Yuka (秋吉優花)
Anai Chihiro (穴井千尋)
Inoue Yuriya (井上由莉耶)
Ui Mashiro (宇井真白)
Ueno Haruka (上野遥)
Okamoto Naoko (岡本尚子)
Kojina Yui (神志那結衣)
Kodama Haruka (兒玉遥)
Komada Hiroka (駒田京伽)
Sakaguchi Riko (坂口理子)
Sashihara Rino (指原莉乃)
Tashima Meru (田島芽瑠)
Tanaka Natsumi (田中菜津美)
Tanaka Miku (田中美久)
Matsuoka Natsumi (松岡菜摘)
Yabuki Nako (矢吹奈子)
Yamada Marina (山田麻莉奈)
Yamamoto Mao (山本茉央)
Wakatabe Haruka (若田部遥)
Team KIV
Imada Mina (今田美奈)
Iwahana Shino (岩花詩乃)
Ueki Nao (植木南央)
Ota Aika (多田愛佳)
Okada Kanna (岡田栞奈)
Kumazawa Serina (熊沢世莉奈)
Shimono Yuki (下野由貴)
Tanaka Yuka (田中優香)
Tomiyoshi Asuka (冨吉明日香)
Tomonaga Mio (朝長美桜)
Fukagawa Maiko (深川舞子)
Fuchigami Mai (渕上舞)
Miyawaki Sakura (宮脇咲良)
Murashige Anna (村重杏奈)
Motomura Aoi (本村碧唯)
Moriyasu Madoka (森保まどか)
Former Members
Komori Yui (古森結衣)
Sugamoto Yuko (菅本裕子)
Taniguchi Airi (谷口愛理)
Tani Marika (谷真理佳)
Nakanishi Chiyori (中西智代梨)
Kusaba Manami (草場愛)
Kimoto Kanon (木本花音)
Goto Izumi (後藤泉)
Umemoto Izumi (梅本泉)
Ito Raira (伊藤来笑)
Discography
Singles
20/03/2013 : Suki! Suki! Skip! (スキ!スキ!スキップ!)
04/09/2013 : Melon Juice (メロンジュース)
12/03/2014 : Sakura, Minna de Tabeta (桜、みんなで食べた)
24/09/2014 : Hikaeme I Love You! (控えめI love you !)
22/04/2015 : 12 Byou (12秒)
25/11/2015 : Shekarashika! (しぇからしか!) (feat. Kishidan)
13/04/2016 : 74 Okubun no 1 no Kimi e (74億分の1の君へ)
Albums
Links
News