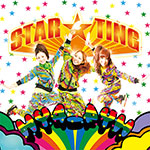 hy4_4yh will release their new mini-album Star☆Ting on January 29.
This album contains 7 tracks including dance music and rock songs. The theme is Yavay Dance Music.
The album was written and arranged by Hosoe Shinji, DJ Jet Baron and Takano Mandokoro (Leopaldon).
In addition, the new digital single of hy4_4yh hi-Tunes ~ Yavay Party Anthem is available on iTunes and Recochoku since November 20.
StarTing is the ending theme for the radio show J-Wave Hello World.
The coupling track 24-31-01 will also be released as a digital single on December 4.
Furthermore, hy4_4yh will hold Star☆Ting Release Party Tour (Star☆Tingリリース・パーティーツアー!) from December 28 to February 8.
Tracklist
hi-Tunes ~ Yavay Party Anthem (Album ver.)
star☆ting ~ Star to Tanjou (star☆ting~スターと誕生)
Camu Camu Song (カムカムソング)
Hyper Yoyo no Speed Kyou Jidai 2014 (ハイパーヨーヨのスピード狂時代 2014)
24-31-01
Yavay! (Yushutsu ver.)
hi-Tunes ~ Yavay Party Anthem (Funkot ver.)
Music Video (PV)