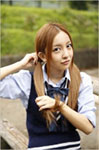 Itano Tomomi's photobook Tomochin (ともちん) will be released on September 30.
The photobook contains pictures of Itano Tomomi in swimsuit and uniform.
It also includes a talk about her memories with AKB48, and some interviews with her father, her mother, and her sister.
The book has 136 pages.
Moreover, Itano tte, Osharenano!? Tomo, Tsuini Misechaimasu ~Tomomi Itano Presents Private Fashion Book~ (板野って、オシャレなの!? とも、ついにみせちゃいます) will go on sale on September 20.

Tomochin graduated from AKB48 on August 27.