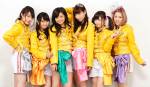 Kyueen's (きゅい~ん'ズ) is a Japanese idol group formed in 2014.
It currently consists of 6 members. Each one has been assigned a color.
Biography / History
As you might have guessed, the name of the idol unit comes from the English word "queens". A crown appears on the logo.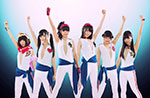 Their songs are described as a tribute to Western music.
Members opened their official Twitter accounts in December 2014.
Their 1st mini-album Kyueens Tojou! (きゅい~ん'ズ登場!) was released in February 2015.
Aisawa Yukino's solo single Mamamamasaka no Kataomoi (ままままさかの片想い) went on sale in July 2015.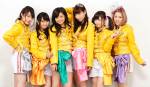 The song Kyou mo Buppan de 21-ji (今日も物販で21時) is performed by a duet comprised of Saiba Mizuki and Sakuraba Miyabi. It was released on the same day.
These 2 songs are featured on Kyueen's 2nd mini-album Sai Toujou!! (再登場!!) in August 2015.
Aisawa Yukino, Saotome Mako, Sakuraba Miyabi, Fujisaki Rico and Michizuki Hiyori announced simultaneously their graduation in December 2015.
As a result, Ono Mina, Tachibana Yuri, Futaba Hana, Niino Miyu and Seno Manami were recruited as 2nd generation members.
The girls appear on The Land of Idols documentary which is going to be released in 2016.
Profile
Kyueens (きゅい~ん'ズ)
Years active : 2014 – present
Label : Universal Music
Agency : D Universe
Members
Saiba Mizuki (西葉瑞希) – Green
Ono Mina (小野光奈)
Tachibana Yuri (橘祐里)
Futaba Hana (双葉はな)
Niino Miyu (新野海優)
Seno Manami (瀬能愛未)
Former Members
Fujisaki Rico (藤咲璃子) – Lavender
Sakuraba Miyabi (桜葉美雅) – Yellow
Mochizuki Hiyori (望月ひより) – Silver
Saotome Mako (早乙女まこ) – Gold
Aisawa Yukino (愛沢優姫乃) – Pink
Discography
Singles
15/04/2015 : We Will!! Do Chokkyu!! (うぃーうぃる!!ど直球っ!!) (らぶmix powered by ざわちん Single Edit)
29/07/2015 : Mamamamasaka no Kataomoi (ままままさかの片想い)
29/07/2015 : Kyou mo Buppan de 21-ji (今日も物販で21時)
Albums
05/02/2015 : Kyueen's Tojou! (きゅい~ん'ズ登場!)
05/08/2015 : Sai Toujou!! (再登場!!)
Links
News