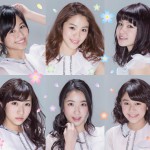 La PomPon is a Japanese idol group formed in 2013.
It currently consists of 6 members. Each one has been assigned a color.
The idol unit is based in Roppongi district in Tokyo.
History / Biography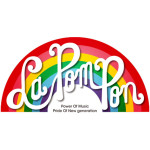 The name of the group, La PomPon, is an acronym for "Power of Music" and "Power of New generation".
Hina appeared in the musical Annie (アニー) in 2009. She played the role of Tessie.
La PomPon became more and more popular after their participation at the Tokyo Idol Festival in August 2014. This event marked the real beginning of their activities. The members of the idol group had worked hard for months by taking dance and singing lessons prior to this live performance.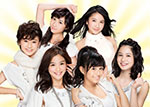 La PomPon's 1st single Bump!! was released in January 2015. It also marks their major debut.
The girls made their first TV appearance on the show Music Dragon (ミュージックドラゴン) airing on NTV (日本テレビ) in January 2015. Bump!! was the ending theme song for the program at the same period.
January 28 is officially "La PomPon Bump!! Day". This date marks the major debut of the idol group.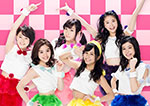 The theme of their 2nd single Hot Girls is "let's be more positive girls".. The members are wearing colorful costumes inspired by fairy tales on the cover.
Their 1st one-man live was held in April 2015.
The single Nazo / Yada! Iyada! Yada! ~Sweet Teens ver.~ (謎 / ヤダ!嫌だ!ヤダ!~Sweet Teens ver.~), on sale in September 2015, is the opening theme song for the anime Detective Conan (名探偵コナン).
La PomPon pursued their collaboration with Detective Conan by performing the ending theme for the anime on their 4th single Unmei no Roulette Mawashite / Sayonara wa Hajimari no Kotoba (運命のルーレット廻して / サヨナラは始まりの言葉) on sale in March 2016.
The girls participated in the opening ceremony of the Roppongi Yokocho (六本木横丁) shopping alley in Tokyo in March 2016.
Profile
La PomPon (ラ・ポンポン)
Years active : 2013 – present
Label : Being
Agency : –
Members
Yukino (ゆきの) – Green
Kiri (きり) – Yellow
Rima (りま) – Blue
Karen (かれん) – Pink
Misaki (みさき) – Purple
Hina (ひな) – Red
Discography
Singles
28/01/2015 : Bump!!
29/04/2015 : Hot Girls
16/09/2015 : Nazo / Yada! Iyada! Yada! ~Sweet Teens ver.~ (謎 / ヤダ!嫌だ!ヤダ!~Sweet Teens ver.~)
23/03/2016 : Unmei no Roulette Mawashite / Sayonara wa Hajimari no Kotoba (運命のルーレット廻して / サヨナラは始まりの言葉)
Albums
Links
News